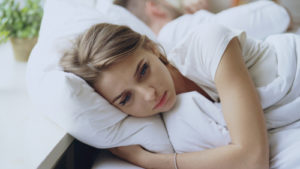 In this series on menopausal sex, I've busted a few myths about loss of desire (here, here, and here), and now I'm sharing more about the real reasons women lose their desire.  In the last two posts, I wrote about how loss of desire is often caused by a lack of foreplay or the drudgery of obligation sex.  Here, I discuss a far-too-common problem:  Painful sex.
Did you realize that at some point in their lives, three-fourths of women will experience painful sex?!  Can you imagine the outcry if 75% of men had pain during sex?!  Imagine how much money would be spent on pharmaceutical solutions!
Sadly, though, when women experience painful sex, many women believe that it's normal.
I'm here to correct that assumption:
Pain during sex is not normal!
It's common, yes – but it's not normal, and if you're having pain during sex, it's imperative to figure out why.
If you ask most doctors about this, they'll just tell you to use more lubrication.  But this is nonsense!  Many commercial sex lubricants can even cause vaginal pain!
This is yet another example of how women have been conditioned to accept all sorts of discomforts as "normal."
If you're experiencing painful sex, it's important to rule out what I'd consider medical causes.  Have your doctor run tests to rule out an overgrowth of yeast, BV, or an STI.  Also ask your doctor if they think a cause like endometriosis, cysts, or fibroids might be the cause.  But if a doctor dismisses your concerns and just tells you to use more lube, please don't stop there.
While it's true that sometimes pain during sex can be caused by a lack of lubrication, in my experience it's more common that something else is going on.  I speak from personal experience.  In my book, I share how I experienced years of painful sex, and the cause certainly wasn't a lack of lubrication.  Rather, it was a harmful pattern my body had gotten into.  Painful sex begat more painful sex, and my desire was zapped completely.
It's probably not a lack of lubrication.
Your vagina is a muscle which, like any other muscle, can expand and contract.  When you're relaxed and aroused, your vagina expands.  But when you're tense or not aroused, your vagina may contract.
If you have sex when you're not aroused, you'll have pain.  And your body, in an effort to protect you from future pain, will try to contract even more, in order to protect you!
Once your body takes on this protective pattern, it can become impossible (without healing) for you to relax and become aroused, at which point all sex will feel painful.
So what should you do?
Break the pattern!
For clients who have issues with painful sex, I recommend working with a qualified sex therapist to help re-condition the body's response, allowing you to arouse fully and relax.  For an intensive, in-person healing experience, I highly recommend a Passionate Intimacy Retreat in Asheville, NC.  Or, escape the cold and join me February 13-18, 2023 at Palmaia beach resort in Playa del Carmen for a Passion in Paradise retreat.  (Hurry though, there's only room for one more couple.)