~ #1 Amazon Best Seller ~
Filled with lessons and practical exercises that can take your sex life from non-existent or mediocre to orgasmic bliss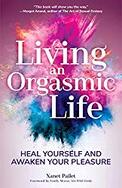 Living An Orgasmic Life: Heal Yourself And Awaken Your Pleasure
by Xanet Pailet is a love letter for anyone who's faced challenges with their sex life. Those who have been alienated from their erotic side due to sexual abuse or trauma will find a healing balm in these pages. Women and men who have difficulty surrendering to pleasure, who can't sustain intimacy, or want to reclaim and feel empowered in their sexuality will significantly benefit from this book.
​"Xanet Pailet offers modern and refreshing insight into what all women should be aware of: they are made for love…(and) to channel pleasure as a means of conscious awakening. This book will show you the way." ―Margot Anand, International Best Selling Author of The Art of Sexual Ecstasy and Love Sex and Awakening
Heal Your Relationship with Sex: Challenges with sexuality are all too common in our society and not frequently discussed openly and thoughtfully.
In Living An Orgasmic Life, Pailet explores the many reasons that cause women to disconnect from their sexuality including shame, body image issues, sexual abuse and trauma, physical wounding, and fears of intimacy. She teaches practical advice and tools to help women healthily awaken to their sexuality and reclaim their libido.
"Through her own sexual healing journey and those of others, author and intimacy coach Xanet Pailet takes us back to a place where we can all develop the courage to reclaim our sexual desires. Living an Orgasmic Life is bound to become a go-to book for therapists, healers and for all of us." ―Louann Brizendine, MD, New York Times Best Selling Author of The Female Brain and The Male Brain
Author Xanet Pailet notes: "I wrote this book because I am passionate about helping individuals who feel broken reclaim their sexuality and their pleasure, and transform their lives. I want women and men who are struggling with sex to understand that help is available and that they can have healthy, passionate sex lives. I wrote this book for the 20 year old who was date raped, the 30 year old mom who was traumatized during childbirth, the 40 year old divorced women who has never experienced an orgasm, the 50 year old who is struggling with menopause and low libido, and the 60 plus year old women who is ready to explore her sexuality and experience orgasmic bliss."
No matter the situation of your love life, Living an Orgasmic Life can help you rediscover the joy and pleasure of sex.
Living an Orgasmic Life is a must read if you desire a better relationship with your partner, juicier sex and more passion in your love life. After reading this book, you will learn:
Why it's so hard to talk about sex in a world where everything is about sex
The #1 reason women lose their desire for sex and what to do about it
How sexual trauma can occur and how to heal it
What the journey to sexual healing looks like
How to find your path to pleasure
How to awaken your body through somatic and hands-on healing
How to reignite your libido
The truth about your pleasure potential
What you can do to start living an orgasmic life