In my last post, I shared a bit about the myth that menopause kills a woman's sex drive.  It doesn't!  Though it's true that hormones shift during menopause, those hormones aren't what's primarily driving your desire for sex.
So what IS driving your desire for sex?
Spontaneous Desire
For a majority of men and for women in their childbearing years (roughly 18-35), desire is often Spontaneous.  This means it happens out of seemingly nowhere.  You just suddenly feel horny without any provocation.  Spontaneous desire doesn't happen for everyone.  Some men and quite a lot of women just don't experience this kind of desire, and that's normal and fine.
Why do some people experience spontaneous desire?  It varies.  For some people, it can be due to estrogen (or the lack thereof).  It can also be tied to dopamine.  The higher your dopamine levels, the more likely you are to be spontaneously aroused. And the more orgasms and great sex you have, the higher your dopamine levels will be!  So there's a positive feedback loop.  Have more great sex, have more orgasms, have more spontaneous desire to have more great sex and more orgasms!  Win, win, win!
There's an opposite loop too, though.  If you're not having great sex or a lot of orgasms, then your dopamine levels will be lower, and the odds of you experiencing spontaneous desire will also be lower.  Like I discussed in my recent instagram video, I think one reason menopause seems to reduce women's desire is that menopause is a convenient excuse for women to stop having sex what had been unsatisfying for a long time.  Since many people believe menopause will kill their sex drive, women who have been unhappy with the sex they're having have an 'easy out.'
"Sorry hon, just can't do it.  I think it's menopause."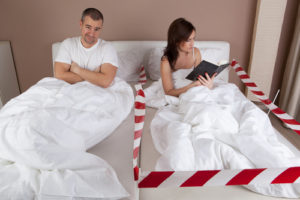 In my experience, though, the problem is not menopause.  It's the dissatisfying sex.  Improve the sex, and you'll improve the desire for sex!
But what if you feel like you just have no spontaneous desire?  Well, good news:  There's also responsive desire.
Responsive Desire
This type of desire happens when your body responds to being touched, teased, and turned on.  Unlike spontaneous desire, it is NOT dependent on your level of estrogen.  And, at any age, this is the most common way that women experience desire.
But, here's the key:  For most women, desire for sex follows arousal.  This is because arousal causes the release of dopamine, which increases your feelings of sexual desire.  Dopamine is highly addictive, which makes us crave more and more pleasure.  And the more pleasure we experience, the more dopamine is released!
Think about it:  When you have great sex, don't you usually want more?!
In my next posts, I'll share tips on how to dramatically improve the sex you're having so that you'll actually want to have more of it.  In the meantime, though, check out my masterclass Reclaim Your Desire, an in-depth course on how to reclaim your desire and re-ignite your love life.