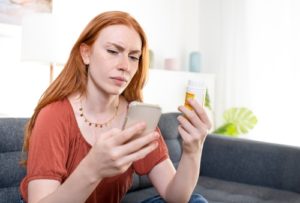 Because of the mega-billion-dollar industry that profits off of menopausal women, you've likely seen countless ads touting various creams and supplements to supercharge your post-menopausal libido.
But let me save you the trouble and expense of trying them all.  They don't work.
None of the products will increase your sex drive, because female sexual desire is complex and involves a whole range of factors.  Any positive effects people experience from these products are likely the result of the placebo effect, which is quite powerful.  But if you want the placebo effect without spending hundreds or thousands of dollars on various creams and supplements, have a friend re-label your multivitamin as "SUPER SEX PILL" and just take that!
Joking aside, are there any products that can help improve menopausal sex?
Yes!
Bio-identical Estrogen Cream
If you don't have any medical contraindications, you might benefit from bio-identical estrogen cream.  These formulations can help to maintain healthy vaginal tissues, prevent thinning of the vaginal walls, and increase lubrication.  They may work to make sex more comfortable.  But what they won't do is supercharge your sex drive.
vFit Gold
A device that offers similar benefits, the vFit Gold, also helps maintain the health of your vaginal walls, keeping the tissue lubricated and reducing inflammation.  This may help make sex more comfortable.  And making sex more comfortable may, indeed, make you more likely to want to have sex!
CBD Lubricant
Another product I like is organic CBD or cannabis lubricant.  CBD can help calm your nervous system and relax the vaginal muscles.  It doesn't make you high, but it can make sex more enjoyable.  (And if you're like me, good sex creates its own kind of high.  So maybe it does get you high… just not in the usual way.)
But what about hormones?  Won't taking progesterone increase sex drive, like the ads claim?
Sadly, no, there isn't any scientific evidence that any type of hormonal intervention will increase women's sexual desire.  And, similarly, there isn't any evidence that any supplements or foods will impact your sexual desire, either.  Anyone who tries to tell you otherwise is probably just trying to profit off of selling you something.  The positive effects that some people experience from various foods and supplements are from placebo.  Placebo is powerful, but it really shouldn't have to cost that much!
The reality is that female sexual desire is complex.  It involves a whole range of factors, any one of which can cause you to lose your desire for sex.
Isn't there a magic pill to fix my problems…?
The bad news is that there's no pill you can take or product you can buy to "fix" your sex drive.
But the good news is that you don't have to buy any pills or products!  What you can do is work on the core issues that have caused you to stop desiring sex.  This is what my next posts will be about:  What ARE the things that make women lose their desire for sex, and what can you do to fix the issues and get your mojo back?
In my upcoming posts, I'll be writing about five specific reasons women lose their desire for sex and how to address them.  But if you can't wait for those posts, or you want to get a head-start on resolving these issues, please check out my Masterclass, Reclaim Your Desire.