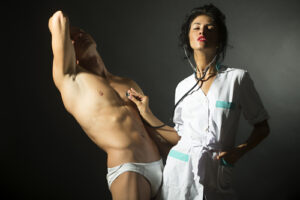 If you eat the same thing, day in and day out, you're bound to get a little bored with it.  The same goes for sex.  If you don't vary things a bit, it will start to feel blasé.  And if it's boring, you won't desire it as much.  Not desiring it means you won't make it a priority.  And the less sex you have, the less happy you'll be.
Says who?  Science, that's who!
Also:  Me.
If you don't have a partner, I recommend using the app MeetUp to look for local groups or events that provide opportunities for safe, sensual touch.  This won't lead to sex (at least at the gatherings).  But it will put you in connection with other folks like yourself who are interested in more touch.  Which could, of course, lead to sex.  (And even if it doesn't, who doesn't want more touch in their life?)
If you do have a partner, but your sex life has all the flavor of unsalted, unbuttered grits, then I urge you to add a dash of spice.  At least for me, my favorite flavor is Kink!
What if I Don't Know Where to Begin?
I recently discovered a fun quiz that helps you figure out what your particular tastes of kink are, and I encourage you to check it out here.  It's free, and you don't have to give them your email address or sign up for anything.  But after a few minutes of questioning, it will tell you what kind of flavors set your sexual taste buds on fire.
At base, kink is a way to explore sexually.  You can make it as mild or spicy as you want to, but it's an invitation to use your imagination in (or out of) the bedroom.  Have fun with it, and play!
To learn more about kink, especially about creating a safe 'container' in which to play, check out this article.
And if you'd like an in-person demonstration of how to incorporate these ideas into your sex life, please consider joining me at my upcoming Group Passionate Intimacy Retreat on October 6-8. It will be at Samasati Sanctuary, a beautiful, private retreat center on 11 gorgeous acres of gardens, forests, walking paths, and fire circles.
I hope to see you there!