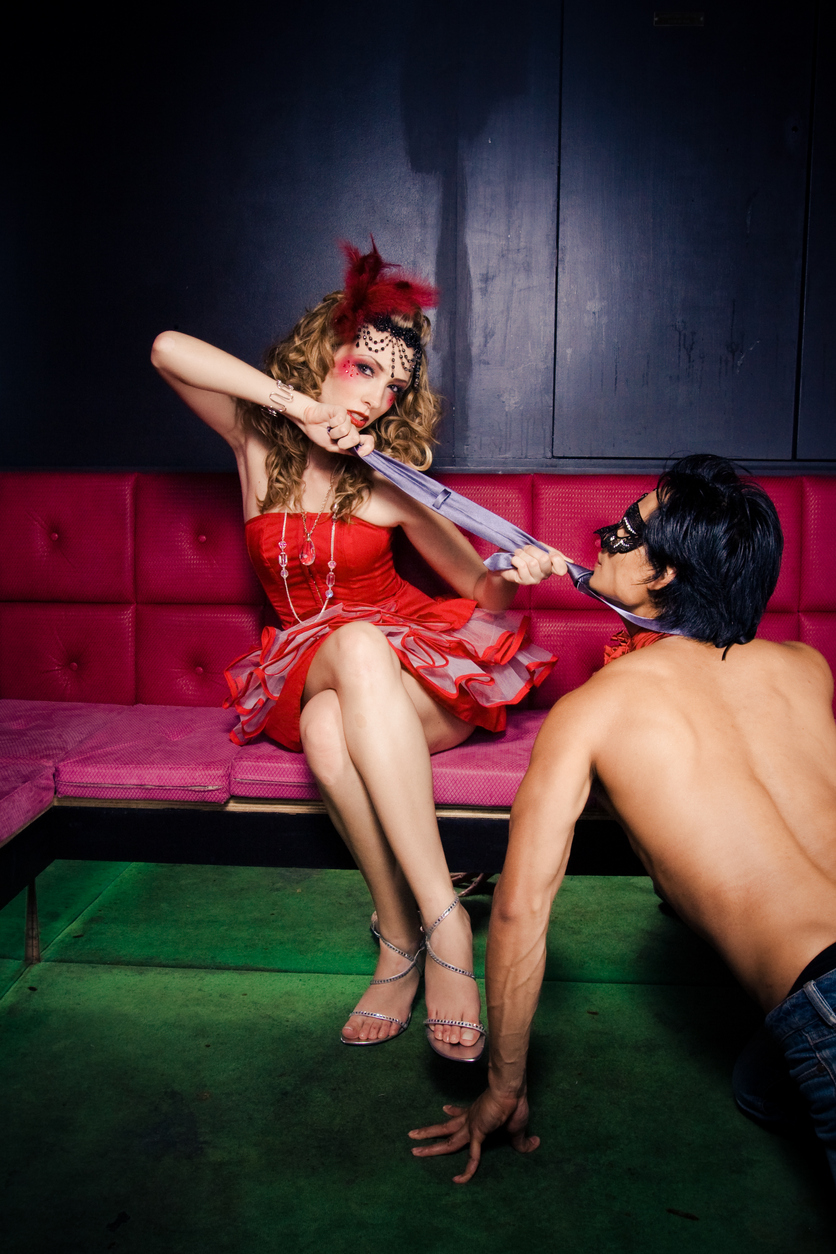 Halloween is Here: Live Your Fantasy 
Last week I wrote about the power of the mask. 
Take the masquerade one step further into role play, and then you officially enter the realm of spine-tingling kink.  
Kink can open new doors for you and your partner on so many levels.
I like the term "Konscious Kink," coined by Mistress Lily Colette, a San Francisco-based dominatrix: "Konscious Kink gives us consensual intimate opportunities for exploring more of who we are as submissives, dominants and both. It is mindful and creative and hot." Konscious Kink involves a thoughtful and well-structured approach to power exchange and emphasizes healing and emotional wholeness for participants.
So, what is your kinky fantasy?
Do you have a crush on your fifth grade teacher, and she just ordered you to stay after class? 
Are you the doctor's favorite patient and need a lengthy medical examination to better understand why you are having strange sensations in your crotch? 
Were you pulled aside for speeding down the freeway and the police officer notices you are a dominatrix, gets down on his hands and knees and begs you to arrest him for not worshipping you enough?
The nurse, construction worker, policeman–all of these are rich roles grounded in our ordinary lives, and some kinksters enjoy even more fantastical characters like vampires and their lovers swooning in terror and delight.
Your imagination may go even beyond the vampire realm to  animals. Some people's kink involves puppy, pussycat, and pony play.
Step into new and exciting identities that long for expression…no matter how naughty…no matter how taboo. Kink can be a pathway into greater self realization as you have an erotic outlet for aspects of yourself that you might repress in daily life.
Fantasies that Heal: One Couple's Story
Jamie is a sexual abuse survivor and all her life, she was in a traditional role with her boyfriends and first husband: 
"I was deferential and sweet and afraid of sexuality, especially my own. In my first marriage, our sex life was vanilla with a capital V–until it completely fizzled out with a divorce.
That was when I met Steve. He was my martial arts teacher. Hah! Go figure! He was so handsome and assertive.
Steve and I had great chemistry in every way, and when he asked me out, I expected he would be Mister Dominant. He was, after all, a martial arts pro. 
I could not have been more wrong. What Steve wanted was a chance to give up the role of being strong and in control. He told me, 'I spend my whole day at work being in charge. At home, I want to kick back and let the lady take over. Would you like to be my dominatrix?'
His question shocked me at first, but then I realized this was an amazing opportunity."
For Charlene, becoming Steve's "dominatrix" was a sexual dream come true and was also deeply healing.
"My story was that men always wanted to control and hurt me, but here was a powerful man saying, 'Teach me how to worship and surrender to you.'
In the course of our relationship, I have healed so much as I am, for the first time, able to own my power…and become someone I could never become in any other way.
Even in therapy, I was never able to really tap my sexual power…but in black leather and stilettos, with a man groveling at my ankles, I am no longer a sexual abuse victim. I am a powerful domme."
Charlene and Steve have clear rules. They use safe words and agree before they do a scene what they want and fantasize about–and any limits they have. They also debrief afterwards to discuss what emotions come up for them and what works and does not work.
Konscious Kink allows you and your partner to articulate the power dynamics that already exist. In most relationships, we are continually navigating who is in charge and who is not, but we do so quietly and unconsciously, and  often times with negative consequences. 
The role plays and safe consensual exploration of kink allows you to become familiar with power dynamics and two critical aspects of your sexuality: surrender and control.
As Charlene explains:
"Steve is relieved that I am in charge. The bedroom is the only place in his life where he has the space to let go. Kink allows him to step into roles he cannot play in his life, just as I have been given the chance to discover what it means to be powerful and dominant in ways I never felt I could be. Power exchange is so healing for both of us."
Konscious Kink: Creating the Container for Healing Experiences
BDSM (Bondage and Discipline, Dominance and Submission, Sadism and Masochism) conjures up some negative connotations–and this is understandable, considering some of the very dark and even destructive images that are associated with tying people up and living out sadistic and masochistic fetishes. I, of course, do not condone anything that is nonconsensual or exploitative and results in any kind of lasting wounds, emotional or physical.
Many in the BDSM community understand the profound effects that kink can have and that is why there is always a safe word, preparation before the scene, and debriefing. As with any profound sexual and emotional experience, it is critical we create guidelines that protect us and our vulnerability.
Here are a few suggestions for creating the safe container for your kink experiences.
Come up with an easy to remember safe word

that you also write down and keep accessible on a nearby nightstand. Don't change the word without telling your partner and be sure you both remember it before playing. When the word is spoken, all play stops and partners check in to determine what is not feeling safe and the next course of action. 

Explore your kink fantasy first by describing it to your partner. 

Do you fantasize being a submissive? If so, what does submission feel and look like? What kinds of  behaviors and props do you need to enact your desire?  Or do you long to be  the "top" ? What does that look and feel like to you? 

Both partners should come with notebook and pencil in hand to write down one another's fantasies and "don'ts" as well as any edges that you each may want to explore. Then before play, each person takes a turn to say what he/she heard and understood to be the fantasy and get confirmation or clarification before beginning.
Take time for breaks when needed and desired. Role play is not the Olympics! There are no judges rating your performances. If either of you need a break, use your safe word, and let your partner know.
Debrief after your role play. What worked? What interactions were total turn-ons and even healing ones? What didn't work well for you? What would you have liked that did not happen? What could your partner have done to make the scene even better? What would you like to do next time? Was anything triggering? Is there any follow-up needed with a therapist if old emotional wounds were activated?
End your power exchange ceremonially and enjoy some cuddling. When you have completed the whole process, acknowledge that you are setting aside your roles. "This formally ends our power exchange and now we are just Steve and Charlene with equal balance of power." You might meditate together, or perform some kind of brief ritual to bring each of you back to center–and seal everything with some snuggling.
A Grown Up's Costume Party
There is plenty of chance to integrate props and costumes into your scenes. These include: blindfolds, gags, ropes, whips, chastity belts, cock rings, chains, leashes, masks, and hoods–and some very sexy black leather clothes for men and women as well as many non-gendered  items.
Kink can be an art form as one stages and develops scenes with all the tools of the trade and the dramatic role plays and relationships that are born from the imagination.  
Kink is a grown-up's costume party.  This Halloween enjoy the tricks and treats of power exchange.