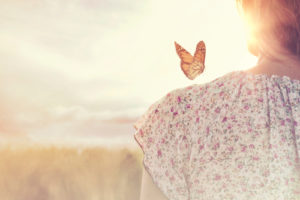 I don't know about where you live, but here in Asheville, spring is in the air!  The sun is shining, birds are singing, bulbs are sprouting, daffodils blooming, pollen's flying, and all of it – save for the pollen – feels amazing!
One reason I love the change of the seasons is that it's a reminder that we, too, have seasons, and we're wise to heed the different rhythms and rituals that go with each season.  While winter is a time to stay snug indoors, sipping hot beverages by the fire, spring is when I throw open the windows and welcome in the fresh air, and I embark on the deepest cleaning of the year.  Some of this is physical, but some is emotional, too, because both our inner and outer spaces need refreshment.  
Physical Cleaning
I've written before about the need to clear space in order to make room for good things – and a good lover – in one's life.  I followed this advice myself, making room in my closet and dresser for a love to come inside, and it worked! 
Physical cleaning is energetic cleaning.  When I clean my home and clear spaces, I remove all the stagnant energy.  One of my favorite cleaning solutions is based on a recipe I discovered in the book HausMagick.  It's a homemade concoction of sal suds, water, and essential oils of douglas fir, juniper berry, and orange.  I add a bit to a bucket of water and wipe down the window sills, baseboards, and floors, and it is some serious magic – the whole house just sparkles, and the smell is so enticing. 
Emotional Cleaning
Consider what in your emotional life needs to go.  Are you hanging on to resentments?  Are you and your partner stuck in a negative cycle?  Are you struggling to let go of a lover?  Is there a toxic relationship that needs to end?  Now is the time to do this clearing and cleansing work.  Release, forgive, cut (or untie) the cords that bind you to people who don't serve your higher good.  Doing this will free up space in your heart and mind for new, loving people, and that love will have room to grow. 
Imagine your heart-space as a garden bed, last year's dead growth covering and protecting the soil.  Gently remove it, and see what's sprouting there.  Are familiar friends emerging?  Welcome them, but remove what's not wanted or needed.  Clear some space so you can plant the seeds for what you want to see grow.  Now close your eyes and imagine those flowers in full bloom.  
What steps do YOU need to take to make those flowers – and that love – a reality this year?