Have you missed me?  I have spent the last two weeks in China visiting the incredible city of Shanghai. Internet access was extremely limited…no Google, no Facebook, unless you have a government monitored internet cable.  I did not teach a workshop. I did however host a Girlfriend Sex Talk with some awesome women expats in their 20's.  Most of my trip was for pleasure and visiting with my son who is teaching English in Shanghai.  Talk about having to marshall your energy when you are teaching and entertaining 5 & 6 year olds.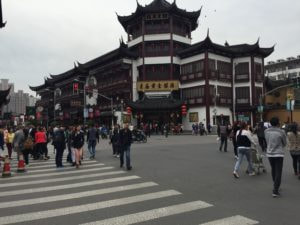 What struck me about Shanghai and how it relates to intimacy is the art of being able to integrate the old with the new.   Shanghai is a city that has modernized quickly in the last decade.  In fact the whole city skyline pictured above has only been in existence for the last twenty years. While parts of Shanghai are very cosmopolitan and sophisticated, there are still other parts that are quite traditional.  It is this combination that make Shanghai such a fascinating city to visit and one that you will never tire of.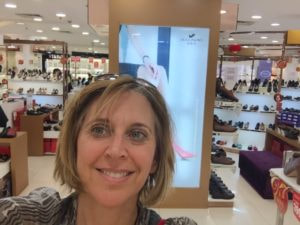 On one block is the most technologically advanced subway and train system in the world…the trains definitely run on time in China. As well as a whole department   store of  brand name shoes…Shoe Heaven Girlfriends..
While right around the corner is an old world cricket market (they are not for eating, but for "fighting").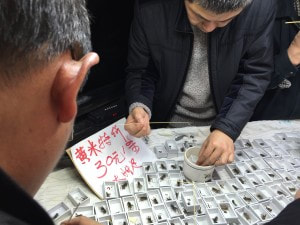 Incorporating the old with the new keeps things fun and exciting in our sex lives as well.  We all enjoy that comfortable feeling of knowing exactly what is going to happen next.  Usually, it makes us able to relax into our pleasure confident that we know how to please and be pleased by our partner.  But sometimes the old starts to wear on us.  It makes our sex life feel routine and boring. We long for something new to happen or even someone new to come along and shake things up.
Well here's the good news…. You can have it all!  No need to throw away the baby with the bathwater.  It's easy to find a few new ways to spice up your sex life. Check out this blog for some ideas.  Still looking for more ideas… get "The Guide to Getting it On", it even comes in a kindle edition.
What are your favorite ways to spice up your sex life?  Please share with me in the comments section below!