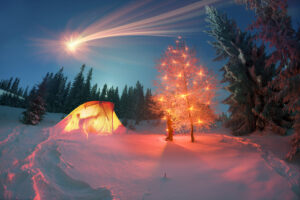 As I sit here sipping tea and admiring all the sexiness on my tree, I wanted to share something I've been giving a lot of thought lately.
Many people are returning to a kind of post-Covid normal, again hosting family holiday celebrations this year.  And life has (mostly) gone back to how it had been before the pandemic.  Folks are back in the office, and people are traveling again and socializing more.
But I have to say – there was at least one good thing about the pandemic that I continue to appreciate.  And that's an appreciation for smaller, simpler celebrations.
So, even if you're being pressured to go back to "normal," rest assured:
You have permission to do what feels best to you.
For me, that's skipping big holiday parties and instead having a cozy gathering with my partner and close friends.  We'll stay at a remote cabin, play games, be sexy, laugh a lot, and have fun.  And we'll do it all while avoiding needless drama of a traditional holiday gathering.
Grab a pen and paper and make a list of all the holiday traditions you take part in.
Now circle the ones that fill you with joy.
Next, cross out the ones that make you feel stressed.
And think for a minute:  What sparks joy for YOU this holiday season?  What lights you up?
There is nothing – absolutely nothing – that says you have to host a holiday party.  Nothing that says you have to make the coveted dessert that you have always made for said party.  Nada!
You can disappear and go camping!
Bottom line:  It's OK to spend the holidays doing things that feel nourishing to you, even if those things aren't traditional.
You can put dicks on your tree!  Or you can camp on a remote island!  (I mean, I wouldn't, but you can!)
Whatever you do this holiday season, let it be things that bring you closer to joy, warmth, and love.
Sending you love and light, wherever that may be.
Happy (unconventional) holidays!