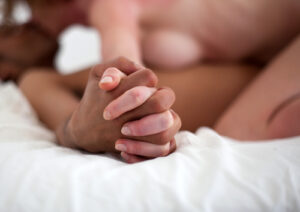 This month, I'm in Florida, soaking up the warmer weather, away from my partner, and I find that I just have zero desire for sex.  Nil, nothing. Hasn't crossed my mind since the moment I left him in Asheville.
Mind you, when I'm with my partner, we have amazing sex.  But when I'm not actually having sex, I'm just not thinking about it or desiring it.
And I know I'm not the only one who experiences this.  It's one of the most frequent reasons women seek me out!
This, as you might recall from a previous post, means that my present level of spontaneous desire is low.
As a refresher, responsive and spontaneous sexual desire are two different ways in which people experience sexual desire and they are both normal.
Responsive Desire
Responsive desire, also known as "reactive desire," is a type of desire that is triggered by external stimuli.  This could be anything from your partner's touch or a sexually charged conversation, to seeing an attractive person or watching a steamy movie.  Responsive desire often requires a certain level of arousal to be present before it is triggered.  It can also be influenced by your mood, stress levels, and physical sensations.
Spontaneous Desire
Spontaneous desire, on the other hand, is a type of desire that arises on its own, without the need for external stimuli. People with spontaneous desire may wake up feeling sexually aroused.  Or they may randomly feel an urge to have sex throughout the day.
Neither is Right or Wrong
It's important to note that both responsive and spontaneous desire are completely normal; there is no right or wrong way to experience desire.  Some people may have a combination of both types of desire, while others may lean more towards one or the other.  It's also worth noting that both types of desire can change over time, and that's okay too.
For example, after ending a relationship in 2021, I went through a long period of celibacy.  During that time, I had no sexual desire.  I still engaged in regular self-care practices, including self love and masturbation.  But I'd have to sort of force myself to get started.  Even though I knew it would feel great once I got into it, in the beginning I just didn't desire it.  (But masturbation is good for you, so I did it anyway!)
It's Not One Partner's Job to Initiate Sex Every Time
One of the pain points in long term relationships is one partner, usually the higher desire one, feeling like the only way sex happens is if they initiate it.  This makes sense from the perspective of the partner with responsive desire, for whom sex might be the last thing on their mind.
But there's a big problem here because we all want to feel wanted and desired by our partners. So it's very easy for the higher desire partner to feel unwanted, undesired and rejected.
This can quickly lead to a very negative feedback loop, and before you know it, no sex is happening.
The way out of this situation is a paradigm mind shift.
For me, that means initiating sex even when I'm not feeling spontaneous desire because I know the minute we start touching, I will get aroused and then want to have sex.
Sometimes this starts with me suggesting a make out session or more often saying
"Hey, let's get in bed and get naked."
That kind of playing around, in a sexy sense, always gets me in the mood.  Then, once my responsive desire kicks in, I'm all in!
But What if You Have NO Desire?
It's important to remember that a lack of desire doesn't necessarily mean there is something wrong with the relationship or you.  Sometimes, a lack of desire can be the result of external factors such as illness or medication.  In these cases, it may be helpful to seek support from your doctor.
If you've explored those potential causes and are still not feeling spontaneous OR responsive desire, then I'd recommend seeking help from a sex coach or therapist.  My book is a good place to start, and my course Reclaim Your Desire is an excellent next step.
Understanding the difference between these two types of desire can help you better understand and communicate your desires and find ways to fulfill them in your relationships.