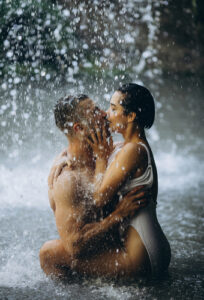 You probably know about "New Relationship Energy."  It's the hot, spicy feeling of lust and passion that often exists at the beginning of a relationship but then fades over time.  It fading is perfectly normal.  But missing that feeling is also normal, and wanting to get it back is great!
In your first months together, can you remember how often you had sex?
Can you remember craving having sex?!
I want you to feel that again.
(Or if you never felt it, I want you to get to experience that!)
If your New Relationship Energy has faded, please consider taking my prescription for ReNEWed Relationship Energy:
It's a handful of targeted, well-facilitated coaching sessions paired with a generous dose of great vacation sex!
In short, it's one of my Passionate Intimacy Retreats, where I mix learning and live demos to create play, passion, and desire.
"But our lives feel so dull and routine…"
"I want to want sex, but the sex we have just feels kinda BLAH… and feeling that makes me feel guilty!"
A client told me recently, "I want to see the twinkle in his eyes when I walk in the house and feel desire for him. I want to feel loved and appreciated and cared for in more than just a material way."
Does any of this sound (or feel) familiar to you?
How do we get that back to that lusty, hot, can't-wait-to-get-out-of-these-clothes feeling?
For me, the best answer is to plan a trip and savor some great vacation sex with my lover.  I love vacation sex because it's not routine.  I get to enjoy brand new scenery, a different routine (one that doesn't include work!), and we stay off our phones, directing our attention toward each other and our bond.
But what if things are a little rocky?  What if you're feeling like you don't even know what you want?  And, in not knowing what you want, you can't possibly express it to your partner?
What if, instead of looking forward to sex, you avoid it because it feels like a chore?
Then I can help.
My next three-day retreat is September 14-17 at Bliss House in Hot Springs, NC.  Registration and information is here.
If you really want to take a deep dive and also have an amazing vacation over Valentine's Week, join me in  Costa Rica at an incredible five star resort  in February 2024.
These retreats feature interactive learning, live demos, and plenty of alone time, which will help re-kindle passion and desire.  You can experience vacation sex all year long!
You will discover and embrace your core desires and sexual style so that you can confidently ask for and receive the pleasure you want and deserve.
Come join me.  And look forward to creating ReNewed Relationship Energy.