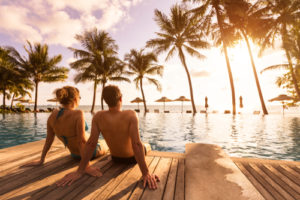 Wake up, coffee, work, lunch, work, oh god what to make for dinner, clean, sleep, wake up, coffee, work…
Is the mind- and body-numbing routine of everyday life getting you down?  Do you need a re-set, either for you or your sex life?
Hint: you probably do!
To help cure this malaise, I like to prescribe a pleasure vacation.
I don't mean taking the kids to Disney.  Or taking the kids anywhere, for that matter!  I mean a vacation just for you and your lover, even if that lover is yourself.
It doesn't have to be a long getaway (a weekend is fine!) and you don't have to go far to get away.  But if you do want a slightly longer getaway at a luxurious, far-away location, might I mention my upcoming Passion in Paradise retreat…?  I'd love for you to join me at Playa del Carmen, and there are only three spots remaining!
Here's a few reasons why I am such a strong advocate for vacation sex:
     1.  Fresh Scenery
As relationship research tells us, our brains crave novelty and excitement.  One of the ways we can create that excitement is to explore a new place or new experience together.  What better way than paddling a river, climbing a mountain, strolling a beach, or just exploring the sights and sounds and tastes of a new city together?
Fresh, clean space matters, too.  Even those of us who are fairly minimalist and don't have tons of clutter in our homes appreciate the clean, spare appearance of a hotel room.  It's a beautiful blank canvas.  There are no bills piled on the counter.  No toys strewn on the floor.  The mirrors sparkle.  And the bed is crisply made.  This relieves in us our need to deal with basic home-life things and put all our focus on pleasure.
     2.  Changed Routine
Like that typical routine I recite above – work, food, sleep – we have a tendency to get stuck in a rut, and our sex life stays in that rut unless we break out of it.  On vacation, you might decide you don't want a schedule at all, and that's great.  Or you might decide you do want a schedule.  Personally, I think a schedule that allots lots of time to sex and intimacy is a fantastic idea.  I might plan something like this:
Waking:  Morning intimacy
9 am: Breakfast together
10 am: Shared adventure
Noon: Lunch together
1 pm: Separate adventure (Perhaps my partner goes on a dive trip while I go snorkeling.  Or maybe my partner goes on a bike ride, and I just savor some quiet time in a hammock, reading a novel.)
4 pm: Showering & Couples Massage
6 pm: Dinner
8-12 pm: Dancing and/or Evening intimacy
While not every couple will want to have separate adventures while on vacation together, you might try it for at least one afternoon.  It's fun and invigorating to go out in the world solo and be able to come back and connect. Then, both of you have lots of stories to tell, things to share.
Whatever your preferred schedule (or lack thereof), be certain to make lots of time for being naked and horizontal together.  So in other words:  don't schedule a whole day full of activities!  Because even if you both really love art, spending the whole day touring three different art museums will leave you no time for intimacy.
And to ensure that you're not just repeating all your normal day-to-day routines while you're on vacation, you might set a goal of trying to explore a new way of touching or feeling each other for each day of your vacation.  Talk with your partner about what new things they'd like to experience.  And share with them what you want to feel too.
"What haven't we tried that you'd like to do?"
"Could we paddle out on a lake during the night to watch the meteor shower?"
"Would it work to have sex on a paddle board?"
(Can you tell I just got a new paddle board and am excited to try it out?!)
     3.  Privacy
While this applies mostly to parents of younger children who often don't prioritize private couple-time, the need for privacy and a secure, safe sex-space matters for all couples, I think.
Do you hold back and try to be quiet when you're having sex, out of fear that the kids or neighbors might hear you?  On vacation, other people may still hear you.  But you don't have to worry as much about your kids wondering why you yell about Jesus so much, or having to endure the neighbor's funny smirks.  You have permission to be loud!  Moan as much as your heart desires, and let your church be that of sacred sex. "Jesus! God!  Yes FUCK YES!!!"  (It's the best kind of communion, I promise!)
     4.  Communication
While you're vacationing together, be mindful of your use of technology, which often interferes with effective communication.  When you are with your lover, silence alerts on your phone, and keep it out of reach.  Also, stick the remote control for the television in a drawer so neither of you is tempted to flip it on and get sucked into a show.  Let the show be the two of you, together, living your best, sexiest lives.