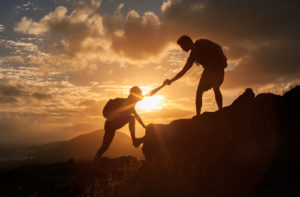 Research has shown that feelings of physical arousal – excitement – cause us to feel greater levels of sexual attraction.  This connection between states of arousal and attraction is even witnessed in animals!  If you put a male vole in a tub of water and force him to swim, he's more likely to life-bond with the first female he encounters afterward.  So, aside from hanging out at the finish line at swimming meets, is there any way we can put this knowledge to use in our relationships?  Yes!
Schedule regular date nights with your partner, preferably once a week, but at least twice a month.  Take turns planning the dates, and use these dates to experience new and exciting things with your partner.  Not just dinner and a movie; let these be adventure dates!  You can do non-sexual things like mountain climbing, white water rafting, or learning a new form of dance. 
Or, if you're both up for it, you can play sexually too. Experiment with a new toy, or use an old toy in a new way. Learn shibari, the art of Japanese rope-tying. Kink is a wonderful way to play together, and recently I've had a lot of questions from clients about kinky play.
Some clients ask:  Am I too old to experiment with kink? Of course not! I didn't start experimenting with kink until I was in my 50s.  I stay youthful by continuing to learn new things all the time!
Other couples want to experiment but don't know where to begin or what to try. I've worked with some in intimacy retreats to explain and demonstrate different forms of bdsm.  This often helps them feel comfortable enough to relax into the roles of dominance and submission. These roles may seem contrived if you've not experienced them, but they serve to heighten sexual polarity and can be so fun to explore together.
If you want to explore and experiment together but don't know where to start, please reach out and we can see if I can help. Because couples who play together don't just stay together, they stay in love with each other.
Wishing you a happy, sexy, kinky weekend!