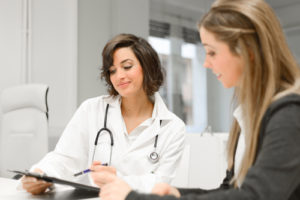 Today we're going to continue our discussion of medical approaches to vaginal health, looking at two surgical options and one non-surgical option.  If you missed the first part of this discussion, you can access it here.
Labiaplasty
Labiaplasty is a cosmetic surgery that usually aims to decrease the size of the labia minora (the inner folds of the vulva) so that they are smaller or the same size as the labia majora (the outer folds).  Labiaplasty is sometimes recommended to women who don't like the way their vulva looks, whether due to age, genetics, or childbirth.  It's an invasive procedure involving anesthesia, and the recovery period usually takes several weeks.
A very small percentage of women may have an actual medical need to have labiaplasty performed.  Perhaps the size of the labia minora interfere with exercise or leads to increased urinary tract infections.  In general, however, labiaplasty is usually a cosmetic procedure done to "improve" the appearance of the vulva.
In my professional opinion, unless there's a valid medical reason to alter the labia, I would strongly advise against having this procedure done.  The surgery is incredibly invasive, and while it may alter the outward appearance of the vulva, the core issues at play – perhaps a sense of shame around sexuality or body self-consciousness – are not going to be solved by having a surgery.
Please know – there is huge variation in the appearance of vulvas!  No vulva is "better" or worse than another.  Perhaps one of the things that can make a particular vulva more beautiful is that it is different, that it has its own set of quirks, that it is yours and only yours.
Also the labia has thousands of nerve cell endings, all of which contribute to pleasure and orgasm. Surgery not only can interfere with these nerve endings, it can also create scar tissue around the labia, decreasing sensation and sometimes causing pain during intercourse.
Bladder Slings
A bladder sling (or urethral sling) is not per se a vaginal treatment, but it is something often recommended to women who are experiencing pelvic floor issues, primarily incontinence.  The "sling" is made out of either bodily tissue or plastic mesh.  Proponents of this treatment claim that the sling creates a kind of hammock to help support the urethra, thus preventing unwanted leaks.  The reality for many women, however, is less pleasant.  Vast numbers of women have sued their doctors and the device manufacturers because the slings have caused infection, chronic pain, and inflammation.
You know what else will help support the urethra and prevent unwanted leaks?  Kegels and good pelvic floor therapy.  These things take time, energy, and often the expertise of a skilled pelvic floor specialist.  Many people just want a quick fix, and as a result many doctors are quick to suggest a bladder sling as an "easy" fix.  However, the reality for so many women is that the devices do not help, and in many cases, they create more problems.
vFit
The vFit Gold is a red light technology to help re-invigorate the vaginal muscles and tissues, which begin to atrophy as a result of hormonal changes during menopause.

I started using the vFit because I was feeling some discomfort during intercourse and was having to use estrogen creams on a routine basis, which I was not thrilled about to keep my tissues soft and supple.

I did a lot of research on this technology which was easy to access since the company that created this device has spent millions of dollars on clinical studies. In fact in the EU, this is an approved medical device for a variety of ailments including urinary incontinence.

It's easy to use; you just insert it into your vagina for up to 10 minutes, a couple of times a week. You will feel a bit of a warmth and you have options to use some vibrations as well. 

The vFit gold also comes with an app (of course) to help you track your usage and results.

I have to say that I'm thrilled with my vFit and I can definitely tell when I've forgotten to use it.

My OB-GYN even remarked to me that my vagina was looking so much better and wanted to know what I was doing.

Although it's not marketed as such in the U.S., it definitely also has benefits if you're dealing with urinary issues.  It was extremely helpful when I was getting over a UTI. I literally felt my bladder muscles start to relax after using it.

I love that it's a non-invasive treatment – no injections or surgeries – and that it has great results and reviews.  It's a bit of an investment ($395) but there's a 25% discount available.  If you're going to try a medical approach to vaginal health, this is the one I would most recommend.