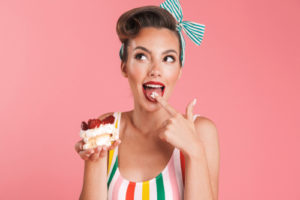 Since we celebrated Valentines Day on February 14 and Steak & a BJ Day on March 14, today we get the pleasure of celebrating Cake & Cunnilingus Day!  
In honor of this special day, I want to share a cunnilingus story that a client told me.  She was fairly experimental and adventurous with sex, but she said that cunnilingus just wasn't her thing.  She knew how to make herself orgasm, but she couldn't orgasm during penetrative sex, and oral sex just didn't do it for her either.  She was so certain of this that she told her new partner that it just wasn't her thing, and he probably shouldn't bother trying.
Her partner was undeterred.  While they were on vacation together, he checked in with her to make sure that oral sex wasn't a painful or emotionally triggering experience.  She explained that no, she just didn't like it because it had never brought her to orgasm and felt like it was a waste of time. 
He assured her that he liked doing it, and she wasn't wasting his time if she didn't orgasm.  He encouraged her to just relax and allow him to do it and not be bothered if she didn't orgasm.  She agreed to try this.  Once she got past the initial feelings of discomfort – those old feelings about how it would't work, how it wasn't her thing – she relaxed into the experience and just started to allow.
She ended up having one of those earth-shaking orgasms, the kind that make you see stars and feel weak in the knees for half a day.  
The experience changed her.  She started to recognize that cunnilingus wasn't the only false "block" she had created for herself.  She had all sorts of other preconceived notions about what things she liked or didn't like, sexually and non-sexually.  The experience of being wrong about cunnilingus helped her to be more open to all kinds of new experiences.
This spirit of allowing, experimenting, and letting go of our preconceived notions is so important to a healthy sex life.  What blocks do you have?  What sexual pleasures have you cut yourself off from enjoying because you're convinced they "don't work" for you?
And, an even more important question:  Will you be celebrating Cake & Cunnilingus Day with me?!  If you don't have a partner, feel free to just celebrate with cake and reflect on this story, opening yourself to new pleasure.  
May your day be filled with sweetness!