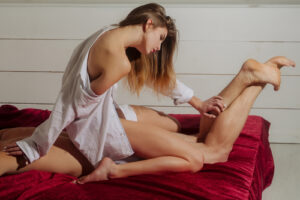 I love my husband, but I really don't desire sex anymore.  And I feel bad for it!  I don't think it's his fault.  He treats me well, and he's a great parent and partner.  But there's just none of the spice we used to feel for each other.
I can't tell you how many times I hear some version of this.  Usually, couples experiencing this kind of sexual disinterest aren't falling apart, but they're also not thriving.  Few know what steps to take to fix it.
The usual couples' advice is to prioritize time together, schedule dates, etc.  And all of these are great… except for one thing.  So often, as we age, we get stuck in the same patterns.  If all our "dates" are takeout and Netflix, that's not going to add any spice.  (Even if it's Thai!)
One of my solutions as a coach is to gently guide couples to learn and try new things together.
While you can make this work with any new thing (take surfing lessons!  learn Argentinian tango!), I find that the most direct route to sexual spice is to add some sexy tools to your relationship toolbox.
You mean, Like a Screwdriver…?
Sort of, yes!  😉
Which sexy new tool depends on your and your partner's sexual styles, but often couples I work with gain a lot from exploring tantra and energetic sex.  Other couples might benefit more from learning erotic massage.
At my upcoming Passionate in Paradise vacation retreat in Costa Rica, I will be doing hands-on demos of these practices with a teaching partner, and we'll show you the magic of tantric sex and energetic orgasms.  We'll also demonstrate how to massage a cock and a pussy in ways that will bring intense new levels of pleasure to your relationship.
What if I'm Shy?!
If you're shy, no worries!  I won't make you do these things in front of others.  But you will get to see them up close and personal and be able to take the skills you learn back to the bedroom to try out on each other.
So please, over Valentine's Week 2024, join me in Costa Rica at an incredible five star resort, where you can safely (and sensuously!) try out some sexy new tools.