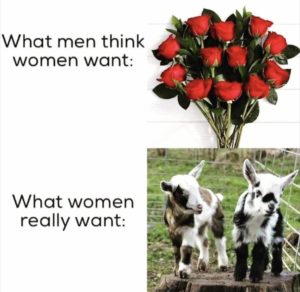 Believe it or not, not all women want roses for Valentine's Day.  And though the meme is funny (and definitely applies to at least one of my friends!), not all women want goats, either.  So what do I suggest you get your lover (or yourself)?  Well, neither of these!
Instead, give the gift of healthy relationship.  There is nothing better or more satisfying than having a healthy relationship, both with yourself and with your partner.  But how do you give someone this kind of gift?  Since we can't give it directly, we have to gift the tools.
The first tool I'd recommend is my best selling book, Living an Orgasmic Life.  This book offers insight, practical exercises and tools for healing and growth, and lots of advice, all for the very low price of $18.99 for paperback or $9.99 for the eBook.
This book has received 100's of five star reviews with readers calling it "inspiring", "amazing" and "life changing".  Here's just one of the many.
"I have read many 'self-help' books over the years but this one really stands out. It is such a fascinating and helpful read, filled to the brim with great advice, websites to check out and useful exercises. The real-life accounts of issues and how they were overcome are inspiring and give one hope that no matter what, things can change for the better."
If you need more help than a book can offer, then I encourage you to plan ahead to the fall.  Give yourself  and your partner – the gift of a Passionate Intimacy Retreat.  I'm excited to offer these private couples in-person retreats in Asheville, North Carolina.  Because of the popularity of the retreats, there's very high demand and I'm currently booking into the fall.  But, as anyone who has seen the Blue Ridge Mountains in the fall knows: this is the time to be here.
I offer flexible options for retreats.  If you don't have a lot of time to spare, I recommend the Weekend Intimacy Intensive.  But if you can spring for a full week of pleasure, healing, and growth, I highly recommend the Weeklong Private Couples Retreat.  If you're feeling stuck in your relationship, caught in negative cycles, or you just feel like your partnership has more potential than you're experiencing, know that you're not alone.
And know this:  you deserve to feel deeply loved, sexually alive, and engaged in your relationship.   You can rebuild intimacy.  A Passionate Intimacy Couples Retreat is your pathway to healing wounds and rediscovering your love and passion for one another.
I hope to see you here soon!