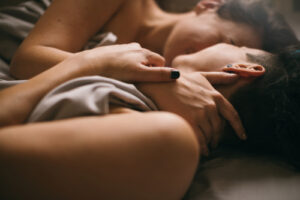 This popped up in my inbox the other day and I'm wondering if you can relate to it.
Dear Xanet,

My husband and I have been married 26 years, and while we have sex once or twice a month, and while he seems to be (mostly) ok with this, I'm not.  

I dread having sex.  I don't know if it's because I don't feel sexy in my slightly-heavier body, or if menopause is starting to affect my hormones.  But whatever the case, I've come to hate having sex, and it feels like an unpleasant chore.

I see some of my divorced girlfriends going on dates and having great sex, and I feel jealous!  Why can't I want to want sex?  Is it me?  Is it my marriage?  Can you help?

With so many regrets,

Julia
Dear Julia,
Yes, I can definitely help.
So often people reach out to me when they're right where you are, with their marriage near the point of collapse.
After time, desire can drain out of a relationship for so many reasons, and my life's calling is to help you get it back!
One of the first things we can do is figure out what your core desires are.
These are the emotions that you want to experience when having sex.
Most of us don't have a clue what it is we want to feel (e.g. worshipped, dominated, taken)
After that, we will work on communicating these desires effectively with your partner.
It's likely that you and your partner both want the same thing:  more satisfying sex, and more of it.
But the map of where to find that desire might look different from your partner's map.
I can help you work together so that both your maps lead to the same place – fulfilling, happy sex.
Sex that you CRAVE!
After 26 years, you are probably also stuck in a rut when it comes to your sex life…doing the same thing, the same way, time after time.
And guess what, your body and what you want has changed over time, but you might not know what you want now or be unable to communicate it.
Why don't you and your husband consider attending one of my upcoming group retreats either in North Carolina or Costa Rica?
On these retreats, in a small group setting, you will discover the root cause of mismatched desires and leave with practical tools to re-create the spark.
Through carefully crafted connection and communication exercises, you hearts will open to each other and you will leave feeling more fulfilled in your relationship than ever before.
You'll experience live demos and have the unique opportunity to explore different sexual styles through a guided and well facilitated approach.
If you'd like to do this kind of work with me in an intensive (but beautiful and sensual) setting, please sign up.  (And do so soon, because these fill up fast!)
The next three day retreat is September 14-17 in Hot Springs, NC, at the lush Bliss House.  Registration and information is here.
If you really want to take a deep dive and also have an amazing vacation over Valentine's Week, join me in  Costa Rica at an incredible five star resort  in February.
I promise a week of some juicy, sensual fun (with amazing food, spa and vistas) that will completely re-charge your relationship,
Feel free to reach out if you have any questions.