I spent Father's Day creating a new Vision Board for myself and my business.  It was an incredibly empowering experience especially the way in which it evolved so organically as I just trusted my intuition.

When it was complete, I was  shocked at how emotional I felt when I looked at it and how it seemed so concrete and quite achievable.  There were certain pictures that I just went with even though I didn't have a clue why they were up there.  Hawaii is figuring really large in this Vision Board and while I loved Maui, I haven't been there in almost 30 years.
 I was definitely expecting Thailand to show up but it didn't.  An apartment in NYC showed up as well….Guess you can take the girl out of NYC but you can't take NYC out of the girl!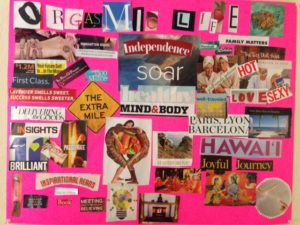 Big new areas on my Vision Board included an entire section on spirituality and personal growth.  Tantra and Buddhism figured heavily.  Being a world traveler is also in my future. On the business side, I am envisioning launching my public speaking career and my new book, "Living an Orgasmic Life", which in fact is the title of my Vision Board. 
The most intriguing picture for me was this one.
 I think it was an advertisement for Pilobus, the dance company.  I was really drawn to this picture but was so confused as to what it is supposed to represent.  Is it about having multiple lovers? I didn't think so because my personal relationship section was very monogamous.  Is it about sensuality? Maybe, but that's not likely the type of picture I would have chosen to represent sexuality.
After looking at the Board for a few minutes, I started crying.  I realized that this picture represents my Yoni, (Vagina) the center of my creativity and my power.  I'm  excited that my Yoni showed up in this vision board because when I did my last one several years she was still pretty much on her 30 year hiatus and not speaking to me.  And in fact just before putting the board together I had a very extended and intense self loving session with many deep orgasmic moments and tremendous pleasure. I see fluidity in this picture.   New ideas and projects  in the womb and being birthed simultaneously.  I see power, strength, love and a safe container that can hold all of my energy, creativity and my passion.  
What was also so interesting to me is what did not show up on this vision board.  Clearly my theater producing career is over because that was not in my consciousness.  However, for all my NYC producer friends out there, I plan on investing again once my business becomes even more successful.  Last time I had an engagement ring and marriage on my board.  This time it was "forever in love" with an authentic man and an easeful relationship.  Getting much more clarity on what I want to manifest in that part of my life as well.
I put my Vision Board up in my bedroom after debating on placement for quite a bit.  It didn't fit the sophisticated look of my living room.  It felt too vulnerable and raw to put up in my office, though there was a perfect place for it.  The last Vision Board in NYC was also in my bedroom so I felt I was continuing the good karma.  And most importantly I will see it every time I go to grab a clean pair of underwear…