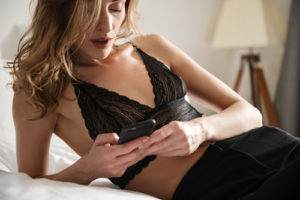 Let's talk about online dating.  Is it worth the effort?  Are the matches ever successful?
While I was slow to come aboard to online dating, I eventually hopped on that bumbling boat and can report that yes, online dating can work!  Case in point: my own relationship.
But if you talk to people about online dating, you'll hear a lot of stories of misery and disappointment.  A recent article in Psychology Today reports on "The Rise of Lonely, Single Men," with the laughable headline: "Dating opportunities for heterosexual men are diminishing as healthy relationship standards increase."
Seriously?!?!!!
NEWS FLASH:  Women Have Standards!
While some men might bemoan this trend requiring them to have "healthy relationship standards" in order to date, the rest of us should feel pretty happy.  Women now enjoy more economic opportunities than ever before.  While things aren't equal, the world for women is remarkably easier to navigate without a man.  Since we no longer need men to get a mortgage, have a bank account, get a credit card, we can actually afford (literally) to be untethered from men who don't bring much to the table.
According to the article, 62 percent of the users of online dating services are men.  This leads to women on the apps being overwhelmed with interest, and having so many men to choose from that it can lead to burnout.  Many men compound this problem by casting a very wide net, "liking" every single woman, waiting to see who likes them back, and then sifting through those results to connect with those that actually interest them.
Men, can you see how this strategy turns women off from these sites, thus decreasing their effectiveness?  Please, for the love of the dating goddess, stop doing this.  If a woman doesn't interest you, why swipe right?  Just leave her in peace, ok?
The article points out some things that I think ought to be obvious, but apparently aren't.  "[Women] prefer men who are emotionally available, good communicators, and share similar values."
Shocking, right?
It goes on:
How can men reap the benefit of the algorithms? Level up your mental health game. That means getting into some individual therapy to address your skills gap. It means valuing your own internal world and respecting your ideas enough to communicate them effectively. It means seeing intimacy, romance, and emotional connection as worthy of your time and effort.
In a society that doesn't value giving young boys the tools they need to be emotionally healthy, it's not surprising that we have a surplus of (sad, lonely) men who haven't mastered these skills.  But the good news is that this problem is fixable.  Men, if you're struggling to attract good women into your life, get some therapy.  Heal your trauma.  Learn how to connect with your feelings and express them.
There is nothing sexier than a man who is mentally healthy, emotionally available, and skilled at communicating.