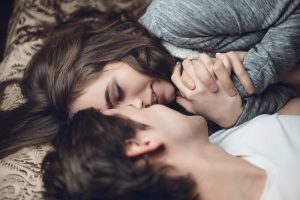 Relationships are very much on my mind these days for two reasons.  First Covid-19 has had a  distinct impact on couples. They are either more connected than ever or about to call in the lawyers.
Second, I am navigating my own new relationship that started during the Pandemic and trying to figure out what the new relationship normal looks like.
I also just finished teaching a very successful four week couples workshop, Passion In the Pandemic, and want to share with you some tools that will be helpful in strengthening your own relationships.
Learn Your Love Language
This is one of the most important tools for you to understand both about yourself and a partner.  Not understanding each other's love language is one of the most common areas of conflict and can be easily remedied.
The five love languages, first identified by Gary Chapman, are physical touch, words of affirmation, quality time, acts of service and giving and receiving gifts. If you're not sure of your love language, you can take the test here. Also I often have couples repeat this test since needs and desires and the way they are expressed do change over time.
While it's important to know your own love language, the intent behind Chapman's process is to understand your partner's love language so that you can modify your behavior to meet their needs, and they will do the same for you.
This may be easier said than done. Recently, I worked with a couple where words of affirmation were her primary love language and her partner had a hard time using words, especially during sex.  However, once he practiced and became more comfortable with this, including understanding the words she wanted to hear, their sex live dramatically improved.
Also, I find that it's not just your partner's primary love language that you need to understand. Secondary love languages are also very important especially if you score within a similar range, which most people do, on at least two of the languages.
Understand Each Other's Sexual Style
David Schnarch, the bestselling author of "Passionate Marriage", identifies three types of sexual styles:  Trance State, Partner Engagement and Role Play and Fantasy.  You have your own primary sexual style although some people are able to more easily move between all or some of them.
Trance State:  You are highly kinesthetic, like to close your eyes and go inside in order to feel sensation. You enjoy slow, focused touch and any distraction can short circuit your arousal. Emotional connection may be more difficult to maintain because your focus in on your own pleasure.
Partner Engagement:  Sex is about emotion, romance, kissing and eye contact. Intimacy and emotional connection is most important and you like to be romanced with tender, loving words.
Role Play and Fantasy:  Fantasy is how you become aroused or sex for you is about role play. You are highly creative and love exploring new things. If role play is your turn on, then you are comfortable in your own skin and with your sexual expression.
Sometimes our sexual styles are similar and compatible, but more often than not, they are in conflict. If your style is partner engagement and your partner's style is trance, you may feel like your partner becomes distant during sex, literally disappearing inside of themselves. Physical cues could be easily misinterpreted or not even noticed.  If you need fantasy to get aroused, but have guilt or shame around expressing that need, sex may not be satisfying to you or it might be difficult to get highly aroused.
Differences in sexual styles can lead to lots of challenges in the bedroom, all of which can be avoidable if you are able to understand both your's and your partner's sexual style.  Also sexual styles are not static and you can explore playing in your partner's sexual style.  Just like love languages, the more you can meet your partner where they are, while also assuring your needs get met, the better your love life will be.