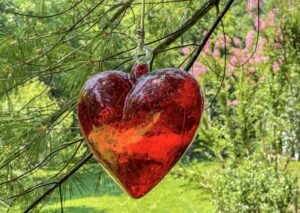 Are you and your partner ready to re-ignite your passion and deepen the connection in your relationship?
Look no further, because the first ever Passionate Intimacy Group Retreat in Asheville is here.  It's going to be an experience like no other!
But first off, thank you!
This wouldn't have been possible without your valuable feedback from our survey about group retreats.
We are thrilled to announce that our retreats will be held at the breathtaking
Samasati Sanctuary
on April 28-30th and July 7-9th.   These are some of the most beautiful times of the year in Asheville, and I can't wait to share it with you.
Nestled in the mountains, the retreat center is an oasis of tranquility and serenity, complete with a hot tub, sauna, fire pit, and acres of stunning grounds to explore.
This is a rare opportunity to take a deep dive into the topic of sex and intimacy with a small group of no more than six couples.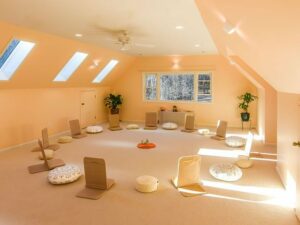 We will guide you through interactive workshops and exercises designed to help you and your partner communicate more effectively.  We'll teach you strategies to help you understand each other's needs and desires and build a stronger bond.  You'll learn how to strengthen your communication skills, explore your sexual styles, and practice new techniques to feel more intimacy in your relationship.
But that's not all!
You'll also have the opportunity to participate in fun and juicy couples-only activities and enjoy delicious organic home-cooked meals in a peaceful setting.
Don't miss out on this chance to reignite the spark in your relationship and take your intimacy to the next level.
We can't wait to see you at the Passionate Intimacy Couples Retreat in Asheville.  Love and passion will flourish!
You'll find pricing and registration information here.
But don't hesitate.  The April retreat only has thee spots left!
XOXO
P.S.  In case you forgot, Valentine's Day is coming up!  Giving your partner (and you) the gift of deeper intimacy and more sensual sex is the best gift of all!
P.P.S. Don't just take our word for it.  Check out some of the testimonials from previous attendees:
"The Passionate Intimacy Couples Retreat was a life-changing experience for us. Xanet is amazing and the exercises were eye-opening. We left feeling closer than ever before."
"We were hesitant to attend at first, but the retreat exceeded our expectations. It was a safe and supportive environment where we felt comfortable to explore our intimacy in a deeper way. We highly recommend it to any couple looking to strengthen their relationship."