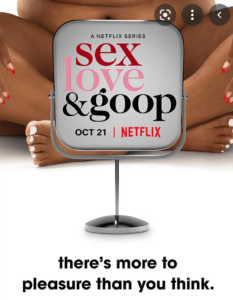 An amazing thing is happening right now. Millions of people from around the world are learning that they are not the only ones struggling with their sexual relationship.
Gwyneth Paltrow's groundbreaking show, Sex, Love and Goop, now playing on Netflix, pulls back the curtain on the important role of sex and intimacy coaches, sexological body workers, and Tantra educators to help couples rediscover intimacy and resolve sexual issues.
No matter how you feel about Gwyneth or Goop, you owe it to yourself,  to watch this riveting show, where six brave couples work through sexual issues in a very vulnerable way in front of cameras, sometimes only half dressed.
Sex, Love and Goop, bravely goes where no other show about sex has ever gone. This is not a "sex therapy talk show", although there is definitely talking and processing.  In fact there are some excellent group discussions about relationships and intimacy, which helps break down the barriers of shame.
As one of my clients who watched the show told me, "they make talking about sex feel like talking about what you had for dinner".  That's a true testament to the power of this show to normalize sex and sexual issues for the masses.
What I love the most about this show is the emphasis on the use of somatic based, experiential practices to help couples truly shift their sexual relationships.
Over the last few weeks, so many clients have called me and said, "Xanet, you do what we saw on Goop!".
Damn straight I do because I know that the most powerful way to transform your sex life is through an embodied approach and teaching couples new skills, all of which can be learned.
Without giving away too much, because really you need to watch it for yourself, here are some of the highlights for me.
The use of a somatic approach to help a couple transform the parent/child power dynamics in the relationship to one of the male taking on the role of the "king" in the bedroom so that the wife could drop into her surrendered feminine. Seeing his energy shift over the episode was extremely potent.
Jaiya, a well known sex coach and sexological bodyworker, helping another couple learn about their erotic blueprints, experience it in real time and learn how to design a sex life that would keep them both interested and excited.  Also her Vulva Puppet, with the clitoris insert, rocked and I need to find one of those!
The amazing work that my colleague Darshana, a fellow Somatica Coach and Sexological Bodyworker, did with the lesbian couple. From helping them understand and implement boundaries, deshamifying and normalizing what their vulvas look like, and literally performing vulva body work on camera to helping one of the women experience an orgasm for the first time.
Bet I have your attention now!  So if you've been wondering what sex coaching looks like, hit the TV this weekend. I give you full permission to be a couch potato.
Also I teach all of these skills, including body work, in my Five Star rated Passionate Intimacy Retreats in Asheville.  Check it out!