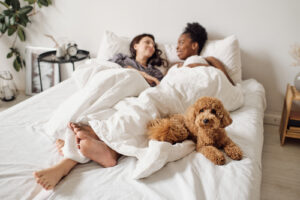 Can you guess what one of the most common hindrance my clients mention with regard to sex? 
Not enough time, too much stress, yes – the problems of the age we live in. But the one that surprises me – and that I hear *all* the time – is dogs!
"We can't have sex because the dog starts barking."

"The dog sleeps between us so we can't really touch at night."

"The dogs take up most of the bed so I often sleep in another room."
I know, I know, you love your dog. They're like a member of the family, and having them nearby feels good! 
But lord! If they're keeping you from having sex, you need some healthy boundaries! 
Therefore, my recommendation for couples is to have a nice cushy dog bed in your room, on the floor. 
Why?
Allergies. Many people suffer from pet allergies, and even if they're mild, it will affect your breathing. But as you probably realize, deep, intense breath is necessary for great sex.

 

Germs & Pollution. Your bed should be a safe, clean place, almost like an altar. Because dogs walk outside barefoot, when they're inside, it's akin to them walking around with outdoor shoes on. Would you wear your outdoor shoes to bed?! I wouldn't! Dog feet pick up all the things our shoes do – dirt, germs, harmful chemicals that people spray on their lawns. Do you really want all that in your bed?!
Focus.  Your bed is a space that should be reserved for sleep and sex.  In my experience, dogs can be snuggly in bed, but they can also be terrible snorers and full of farts.  Neither of these are conducive to good sleep, and they're not going to enhance your sex life, either!
If you have severe allergies, or if you have a dog that howls or complains when you're having sex, I'd go even further.  Make a bed for them outside of the bedroom, and keep the door closed.
There are exceptions, though.
Should you ever ignore this advice?  Yes.  If you are recovering from a traumatic event, I'd encourage you to skip all of the above advice and just love your pet.  The companionship of a pet, especially a dog, has been shown to help prevent PTSD from developing, and if PTSD has already occurred, dogs and other therapy animals can help people heal from it.
For more guidance on how to improve your sex life, check out my series of (free!) videos here.