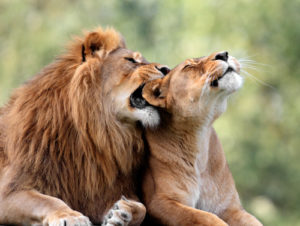 Dear Xanet,  

In the past I've always been a very sexual being.  I love sex, usually crave sex, and through my life, I've had lots of great sex.  But not lately.  I'm currently dating someone I love, but the sex is just BLAH.  We're exceptionally compatible and he's a wonderful guy.  But when we head to bed, I just have zero desire for him.   Indeed, sometimes when we start to get intimate, he gets very excited and starts giggling like a little boy.  Then what little desire I had will vanish as my vagina makes the Windows shut down noise.

I love that my boyfriend is a happy person, light-hearted, often smiling and laughing.  But in bed, I'm more used to (and more turned on by) stronger masculine energy – not high-pitched giggles. I've explained this to him, but he says that's just how he is, and he doesn't see a problem with it.

I feel like something is wrong with me.  Maybe I'm just old, or my formerly high sex drive has vanished.  Is it me?  Is it him?  Is it us?  

With love (but no lust),

Not Turned On.
Dear Not Turned On,
There's nothing wrong with you, and there's nothing wrong with him.  There is, however, something not right about you and him.  It seems that what is lacking is polarity, a subject I've discussed here and in Chapter 12 of my book, Living an Orgasmic Life.
Polarity refers to the tension between masculine and feminine energy.  When there is a lot of sexual polarity with your partner, the charge is strong.  And when couples lack polarity, the sex may be sweet, even nice, but it will lack passion. That lack can lead to a loss of interest in sex and, ultimately, resentment and a failed relationship.
One tool I suggest to couples I work with is something I call the Animal Game.  Set aside some time for intimacy, and together, set an intention to try to tap into your inner animal selves.  Imagine yourselves as a pair of wild animals, maybe large cats.  Get on your hands and knees, and really get into it.  Sniff one another, walk around each other, examining one another closely.  Lick your partner, rub against them.
While this exercise might seem silly at first, my experience is that it's very effective.  If we can set aside our preconceived notions about sex and sexuality, ideas we've absorbed from television or pornography, we can reach into the more primal part of our brains to remember how to connect in a more primitive, less-mediated way.
It's possible that your partner may have absorbed some of society's messages about men being too forceful and demanding with women, and he might not feel comfortable being dominant with you.  Clearly explain to him that he has permission to be more dominant with you, and use this tool to help bring out that aspect of his personality.  Doing so, you might find that the sex gets a bit spicier.
Readers, will you give this game a try and let me know how it works for you?