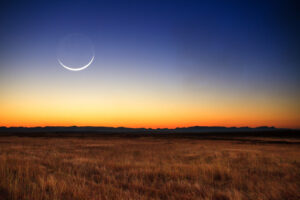 The moon is new right now, and looking at it always serves as a reminder that even when I'm not lit up by others (the sun, my lover, etc.), I'm still whole and beautiful.  The moon doesn't stop existing just because it's not illuminated.  No!  Regardless of what phase the moon is in, it is whole and beautiful too.
I use the moon phases in my meditation and my goal-setting and intentions.  When the moon is full, I consider what I need to let go.  Old stories that no longer serve me?  Those hideous pleated pants?
Gone.  Both of 'em!
But when the moon is new, I shift my thoughts toward intention-setting and goals for the coming weeks.  New moon energy is good for inviting in what we want more of, letting these wishes manifest and grow as the moon grows.
Inspired in part by Miley Cyrus's hit song Flowers, right now a lot of women are focused on self-love and self-care, which I think is fabulous.
I didn't wanna leave you

I didn't wanna lie Started to cry but then remembered I

I can buy myself flowers

Write my name in the sand Talk to myself for hours Say things you don't understand I can take myself dancing And I can hold my own hand Yeah, I can love me better than you can
The song, presumed to be about the breakup between Cyrus and her ex Liam Hemsworth, is all about female empowerment.  And the video, in case you haven't seen it, is sexy af!
Cyrus is seen working out, looking fabulous, luxuriating in her shower, and being, generally, as hot as the sun.  And the scene post-shower, notice the men's suit she wears while romping around all sexily?  That's apparently the one Hemsworth wore when he told Cyrus she should "behave."
Well she's behaving, alright!  Behaving like an absolute QUEEN!  Ha!
Like the Moon, We All Go Through Phases
Like the moon, we might be in a phase of being gloriously lit up by others, or we might be on our own, just being.  Regardless of our phase, we can be whole and beautiful, satisfied and content.
As a sex coach, one of my main goals is helping people live their best, most orgasmic lives.  But I don't go about that assuming that anyone's best, most orgasmic life is necessarily one with a partner.
Solo sex is still sex!  And it's often FANTASTIC sex!
And while I'm not here to throw shade on partnered sex (which can also be fabulous), I think that embracing and appreciating the love we make to ourselves is so, so important.
So, to that end, during this new moon I'm focusing on five self-love and self-care habits.
Five Ways I Love Myself Better:
Self pleasure.  Even if I don't feel in the mood to masturbate, I do, because I know it's good for me.
Baths or Hot Tub Soaks.  I feel "held" in hot water, and it soothes my nervous system.
Saunas.  I bought a personal sauna a couple years ago, and I love being able to sit and sweat.  Taking time to do it improves my mood, makes my skin feel great, and helps banish winter blues.  (I don't care who says Asheville winters are mild!  I get COLD here!)
Gratitude Journaling.  Every night I write down five new things I'm grateful for.  This kind of vibration-lifting exercise keeps me focused on what's already good, and that attracts more good to my life.
Dance.  While I was staying in Florida in January, I loved going to the beach for ecstatic dance.  But since it's too cold out here for me to do that, I'm experimenting with Body Groove.  It has been fun!  Even if I only dance for ten minutes in the morning, that's enough joyful movement of my body to boost my mood for the whole day.
What are YOUR favorite self-care and self-love habits?  What makes you feel whole and vibrant, even when you're not lit up by others?