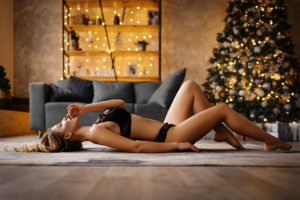 She's making a list
Checking it twice
Deciding if he's naughty or nice…
This holiday, I'm making two lists.  The first is one of gratitude. Since I'm single, I'll list all the things I love about being single.
If you're partnered, what are you thankful for about your partner or your partnership? How do they make your life better?
The second list I'll make is my wish-list.
As we've matured, we've likely set aside our Santa wish lists, but it's worth remembering that the solstice is a powerful time for everyone – adults included – to invite things into our lives that we want. If you're single and looking for partnership, make a list of all the traits or qualities you want in a partner. And if you're partnered, make a list of what you want more of in your partner or your partnership. 
I caution you against using negative expressions while doing this exercise. Instead of saying, "I want my lover to stop grinning and giggling during sex," you could write "My partner exudes strong masculine energy when we have sex." 
You've likely heard of the Law of Attraction, the notion that energy attracts like energy.  When we focus on what we don't want, we sometimes inadvertently draw more of that to us. Conversely, when tell the universe what we do want, we give the universe the chance to answer our wishes and give us exactly what we want.
So I urge you: Be careful what you ask for!
I invite you to join me in writing this list, stating our wishes as affirmations of what is being drawn into our lives.
I'm blissfully happy living a solo life, savoring my time, my body, my pleasure.
I'm attracting a partner…
…who exudes strong, calm masculine energy
…who has a strong commitment to emotional health, healing, and growth
…who is handsome, fit, and capable
…who treats me with love, care, and generosity
…whose chemistry merges with mine to make magnificent sexplosions!
If you're struggling and don't know what you want, or if this seems too daunting, there's too much that seems unfixable, I encourage you to invite healing into your life.  And, of course, reach out if you want to work with me to improve your romantic life.