Here's the deal, kissing is really important to so many people, myself included.  It can be more intimate than having sex. In both my personal experience and working with couples, so many people don't get it right.
A lot of couples who come to see me are struggling around intimacy and sex. The conversation often goes like this:
Me: How and when do you guys kiss?
Couple: Well, yeah, a kiss on the cheek or a little kiss on the lip. Maybe before we go to work, say hello or goodbye. But even when we are having sex, we are not kissing.
This is usually an indication that there is a serious intimacy problem in the relationship because kissing is such an intimate and passionate act.  Deep passionate kissing is also one of the three ingredients for women to have orgasms during sex.
Here are some tips to make your kissing great, just like those juicy make-out sessions you had in high school.
Kissing is like good sex… go slow
You don't race into the kiss. Start slowly, and build up tension. This is one of the things that creates really good kissing and really good sex, the feeling of teasing and creating tension.  But this can only happen when you start out slowly or you will have no place to go in the build up.
Make sure your mouth and jaw are relaxed
The jaw is the strongest muscle that we have in our body, and a lot of us hold tension in the jaw. That's why there are so many TMJ issues going on. When your jaw is relaxed your pelvis is relaxed as well. That's a good thing for having a better sex life. It also relaxes your mouth and your lips. In order for your lips to be soft, your mouth has to be open, because kissing like a dead fish is a definite romance killer.
Never ever, unless you have prior consent and your partner likes it, stick your tongue down your partner's throat
This is especially for the men, I know you don't do this but there are some who do.
I was quoted in an article about a month ago about kissing in which a lot of women were interviewed. The number #1 complaint women had was when someone stuck a tongue down their throat thinking that was a turn on.  
For most women, it is a big TURN OFF.  It feels coercive, invasive and really non-consensual.  It is not only not juicy, but it might also even feel like you're being raped in your throat. And if this happens to be the first date, you can pretty much forget any possibility of a second one.  
But if you know your partner loves it and has given you consent, then, by all means, go for it!
Be creative and explore
Remember, the lips are filled with erectile tissue and nerve endings. So what does it feel like to kiss just the upper lip, corner of the lip or the bottom lip? What about nibbling on your partner's lip?  Get really curious and explore all the parts of the lips, there are a lot of territories there.
Explore it with your mouth, tongue, or even your finger. Really focus on what will it be like to have a 30-45-minute session of just kissing each other. That's intense and builds up a lot of desire, which is exactly what you want to do.
Experiment with one partner being the receiver
Rather than your partner kissing you back so that you're engaged, what would it be like if one of you was the giver, and one of you was the receiver?
In this case, the person receiving just gets to receive and doesn't have to do anything. They don't have to kiss you back, they just have to enjoy all of the sensuality of receiving your kisses.
Kiss your partner for your own pleasure
This is a paradigm shift and something I always teach in every class that I've ever given… to touch for your own pleasure.
It's a different mindset because most of the time we are doing something we think our partner wants. Usually, we are kissing them the way we think they want to be kissed or the way we think we should be doing it. But if you were to change that mindset and start to kiss your partner for your own pleasure, really focusing on what it feels like, it can create a pleasure circuit. When your partner realizes how good it feels for you, then it feels even better for them.
Tease
Teasing creates tension and tension creates better sex.
In this high school make out we want to build up desire.
One of the ways you build desire is through teasing and not giving your partner everything that they want. Maybe kiss for a little while and when you feel they are really getting turned on, then pull back. Touch their face, ears, hair or just look at them to create more of a connection.
Don't just kiss the mouth
This is a high school make out, so genitals or breasts are out of the questions. We are not in second base territory yet, just first base territory. But there are a lot of other places you can kiss. You can kiss the nose, cheeks, neck, ears, hands, and arms.
I encourage you to really try other parts of the body in order to continue to build up tension and continue to build up desire.
Then when you can't stand it anymore go for the beautiful deep, passionate kiss, where you are using tongues. Tongues are fine, but not every woman likes to combine their tongue with you, and not every man likes that either. You've got to check in and see if this feels good.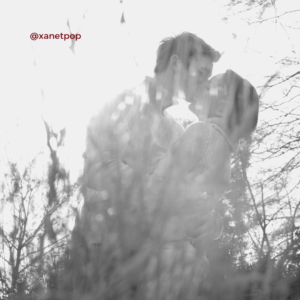 These are my tips to help you build your desire through kissing.
I encourage you to join us in talking about love and intimacy on Girlfriend Sex Talk!, a safe place for women to talk about sex.
If you have any questions or comments please contact me or leave a comment below.