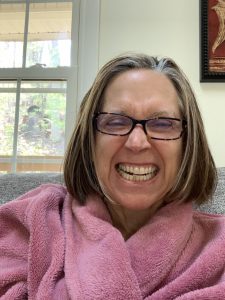 As we head into week five of lock down and increasingly disturbing news about the impact of this pandemic on our economy, healthcare system, and democracy, I find my emotional health and my routines shifting.
No longer do I jump out of bed to meditate or exercise. Instead I find myself lounging around, still in my robe at 10:00 AM, and having to push myself to go outside and take a walk.
I'm sick of having to pivot. I want to go back to my old way of life–of seeing friends in person, touching lovers, being excited about what I'm creating in Asheville and looking forward to all the trips to California and New York I had planned.
I am not OK and you probably aren't either.  The pervasive fear and anxiety that kept me up at night has shifted more into despair and hopelessness.
In my head I know that this is a trauma reaction and that everything that I'm feeling is normal. Trauma impacts each of us  in different ways.
We often move between high levels of activation (anxiety/emotionally strung out)  to intense levels of apathy and hopelessness and everything in-between.
What we need to do in these times is simply give ourselves permission to feel our feelings, accept where we are at the moment and not beat ourselves up.
If any of the below resonates with you, please know this is all normal.
Not wanting to get out of bed in the morning…normal
Being extremely emotional (sad, angry)…..normal
Unable to fall asleep at night or go back to sleep….normal
 Feeling anxious, antsy, heart racing….normal
Binge watching Netflix/Hulu….normal
Going back to old addictions for comfort….normal
Feeling despair or hopelessness (but not suicidal)…normal
Losing your sex drive….normal
Having Covid-19 dreams/nightmares….normal
Being short with your children or partner…normal
Having a hard time working or concentrating…normal
Just because all of this is normal, doesn't mean that there aren't actions that you can take that will make you feel better.  Grounding, meditation, walks, getting your hands in the earth, and exercising all will help shift your mood.
But if you don't want to make yourself feel better, that's normal too.