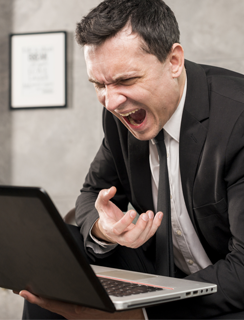 Naomi Wolf, who recently released her autobiography  Vagina, (add to your reading list)  is now on a mission to educate the public about your sexual life and the danger of internet pornography, and how it is "re-wiring the male brain"..check out this video..  This is particularly problematic for the sex life of teenagers whose whole concept of sex and sexual arousal is being skewed by the unrealistic depiction of sex on the internet.  I see it frequently with men who have issues getting erections with a parter when they're not watching porn.  We literally have to rewire the brain to experience pleasure in a sensate, as opposed to visual way.  Don't get me wrong..I'm a fan of porn..It definitely has its place but like anything else a little moderation goes a long way. It can negatively effect your sexual life.
As so beautifully explained by my colleague Brian Estlin in his blog post below porn can also result in feelings of inadequacy and self judgement in men.
Reposted with Permission:  August 20th, 2013
Feelings of an inadequate sexual life are a common problem in the bedroom.  Lots of people don't feel that they're good enough — or at least, are afraid they might not be.  This contributes to performance anxiety, which can cause various sexual issues (or just take some of the fun out of it).  At which point, fears of inadequacy can become a self-fulfilling prophecy, even a vicious cycle.  Yikes!
Porn can contribute to this problem by defining a standard that's difficult or impossible to meet.  And that, I believe, is the point of this video which was recently brought to my attention: Porn Sex vs. Real Sex Explained With Food.
The video is worth your two minutes to watch, and makes the point well that porn isn't a reasonable standard to measure yourself against.
But wait just a minute.  Three minutes to ejaculation?
Okay, let's put aside the fact that the video cites no sources, and assume the statistic is true.  (And actually, I'm sure that many men do ejaculate within three minutes a lot of the time.)
The thing is, "real sex" — outside the constructed world of pornography — includes more than what is average or typical.  It's not limited to the current state of your own sex life, either.  Maybe you want your sex life to improve.  It almost certainly can.  You have a sexual potential which is still in the realm of "real sex", even if it's not yet fully realized.
Whenever we take on the task of self-improvement, though, our inadequacy fears threaten to bite us in the ass (and not in the good way).  If you take on a goal of improving your sexual skills, it's all too easy to turn that goal into a standard you don't (yet) measure up to. And what if you fail?  How will you ever be good enough then?  Sometimes it seems safer not to even try.
Not everyone has these insecurities, but many of us do.  I know I've struggled with inadequacy fears myself, and at times they've delayed my sexual growth.  To hold yourself with loving acceptance, while simultaneously trying to change, is a bit of a balancing act. From my point of view, self-compassion
 is the foundational skill that begins to open the space for holding that tension. Luckily, like any skill, it improves with practice.
That's one reason I often address self-love directly in sex coaching. Interestingly enough, it's possible to harness sexual energy to help cultivate self-love.  So there's the possibility for a virtuous cycle here, with self-love and erotic growth fueling each other.
In short:
Don't judge your sex life based on porn!
Don't settle for unsatisfying sex either!
Practice self-love, especially if you are prone to inadequacy fears.