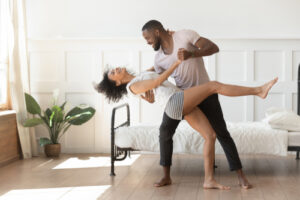 As a sex therapist, I have the pleasure of getting to see a lot of relationships come back from the brink.  I get to watch (gleefully!) as couples reignite their spark of desire, and fall back in love (and lust!)
But sometimes, they don't.
Most commonly, when this happens, it is because one of the partners just isn't willing to learn new things.
"I think our sex life is fine the way it is," he'll say.
Or, "I'm menopausal, and he just needs to accept that I won't want sex like I used to."
Let me assure you:
This defeatist attitude of "I'm fine, my partner just needs to be fine too" is never the path to relationship success.  Rather, it tends to be the path to fighting about custody schedules.
If you want your relationship to succeed, don't be the one who's "fine."  Be the one who's willing to learn.
Learn what?
For one, learn what truly makes you tick, and learn what makes your partner hot, too.  There's a high likelihood they're different things, but only by knowing that can you figure out how to come together more often (literally and figuratively).
Once you've learned precisely what you want, the next step is to communicate it clearly, in a way that will draw your partner in, not push them away or make them defensive.
And third, once you're both aware of your needs, you can learn to satisfy those needs.
So Xanet, How Do We Get There?
Let me help!
This is exactly the work (and play) we'll be doing at my upcoming Passionate Intimacy Retreats.
First, we'll take a deep dive into your erotic blueprint.  Next, we'll work on communicating desires.  And after that, I'll give live demos of skills like tantra, energetic sex, erotic massage, and kinky play.
Over Valentine's Day 2024, I'll be hosting a wee-long, deep dive into sensuality in beautiful Costa Rica.  You can find out more about that and register here.
And in April 2024, I'll be offering a weekend-long retreat in Hot Springs, NC (north of Asheville), which you can read about here.
If neither of the group retreats work for you, I also have some availability to do Private Intimacy Retreats, which you can learn more about here.
Whether you work with me or not, though, please be the partner who's down to learn and grow as a lover.