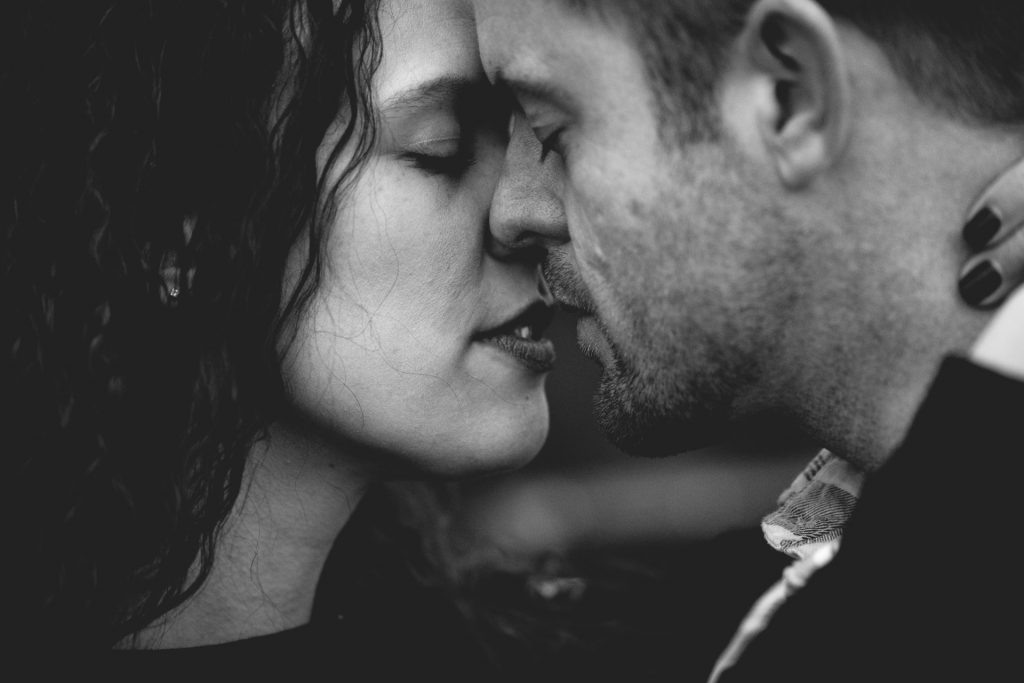 Every sexual experience you have is meant to be great, it has to be something that both parties enjoy and if something is not feeling good or it's painful you need to stop and do something else.  
So if sex, especially penetration, is uncomfortable or painful for you, you must stop immediately and try other things.  
I can't emphasize this point enough.  Women have been conditioned to accept all sorts of  discomforts (including menstrual cramps) as part of our role in life. Which is definitely NOT good and you need to communicate every discomfort with your partner. 
Why

 

do

 

you

 

experience

 

painful

 

sex?
Uncomfortable or painful intercourse will begin to send a signal to your vaginal muscles, to 
further contract, in order to protect you from more pain and discomfort. 
Eventually, your body will take this protective pattern on, making it impossible for you to relax and become aroused, and making sex even more painful. 
It becomes an obligation or service sex just to please your partner. Again, many married women have been conditioned to believe this is their role in life. 
Service sex is a huge libido killer especially if you're not getting what you want, not feeling aroused, and just want to get it over with. 
Think about it this way.  The more you have to do something that you don't enjoy, the less enjoyable it becomes, and the less likely you are going to want to do it in the future.  That is a built-in desire killer. 
Instead of having service sex or sex that is painful, consider all the ways in which you can experience the pleasure that does not involve penetration.  
Or you can find ways to be more relaxed and arouse, and then have penetration sex but in the first signal of pain, you should stop so it won't become a bad experience.  
What

 

can

 

you

 

do

 

to

 

avoid

 

painful

 

sex?
You have a lot of options to avoid this pain but I will say that finding an environment where you can communicate and feel relaxed is the best way to stop feeling bad every time you have sex.  
If you are in a hurry or everything happens super fast, you won't be able to understand your body, breathe, and enjoy it.  
Your body needs to be prepared for sex and you need to be in a peaceful place where you can explain to your partner what do you want and what's not feeling good or hurts.  
I will explain to you why being relaxed is so, so, so important!
Y
ou

 

need

 

to

 

relax

 

and

 

slow

 

your

 

rhythm

 

to

 

avoid

 

painful

 

sex
Finding time for sex can be difficult for some and for women it needs to be slow to be able to lubricate and be ready.  
Sometimes sex happens too quickly and we are in a rush to complete it! So you are not enjoying foreplay and your body is not really ready to have penetration sex.  
This one can be a cause of painful sex, you are no enjoying and your body is not prepared.  
Your body takes a good long time to get warmed up and fully aroused. Your genitals and nipples are usually the last body parts that come in the line.    
This does not mean that you can't necessarily have an orgasm after a few minutes of clitoral play.  But I promise you that the type of orgasm that you will have will be far weaker than the orgasms you would have if you were fully aroused. 
Also, weaker orgasms produce less dopamine and less dopamine creates less desire for sex.  
So I can't come here and give you a specific solution to avoid painful sex, because first of all, you need to understand that sex doesn't necessarily mean penetration, you can have a different type of sex and fully enjoy it. 
On the other hand, you will need to deeply understand your body and communicate every feeling with your partner to create a nice environment.  
If you are already suffering from painful sex it's also important to stop doing more of the same and try different things because otherwise it will become a bad experience and you will lose desire.  
And please remember that if you're ready to turn your sex life around, please reach out so we can help you reclaim your desire and reignite your sex life. 

You can get in touch by clicking here!
I hope this was helpful for you and remember, sex is not meant to be painful, it's meant to be great.