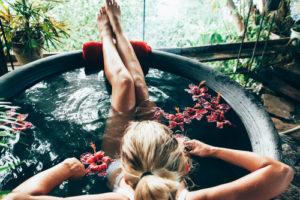 This month, I'm spending a bit of time on the beach enjoying a solo vacation but also kinda missing my lover, who had to stay back home.  One of the practices I always enjoy when I'm solo, though, is scheduling a hot date… with myself!
I plan ahead, marking it on the calendar, and doing the necessary shopping.  Set the table with the nicest linens and make a decadent meal, light candles, play sexy music, the whole works.  As I eat, I savor the tastes and textures, reminding myself of all the things I savor about myself, too.  The tastes, textures, wisdom, growth, and all the contradictions, too!
After dinner I run a deep, hot bath, and I turn off the lights and soak in candlelight.  Epsom salts are lovely; so is a drop or two of frankincense essential oil on my bar of soap.  I sink into the water and massage the scented soap over my body, gently rubbing my breasts, my arms, my legs, my ass.  (It's easy to forget sometimes how lovely our own touch is!)
After the bath, or sometimes during it, I break out a favorite toy.  If you have a yoni, I recommend a yoni egg.  These are the steps I take when I use mine:
 Ensure the stone is clean.  (Do this step before your date!)  To clean my stone, I set my electric kettle to 160 degrees and heat the water.  Then I put the egg in a bowl and very slowly pour the hot water over it, leaving it for at least fifteen minutes or until it cools.  Doing this helps to ensure that any bacteria that can get into the stone is neutralized.  Make sure that the stone has cooled to room temperature before using it.  You want this to be a hot date, but not scalding-your-pussy kind of hot!
Set an intention.  What do you want to come from this session?  For me, yoni eggs symbolize the feminine power of creation.  Is there something you want to create?  If so, focus on that as you hold the stone.
Rub the stone gently on your yoni.  Slowly and gently, press the larger end of the egg to the opening of your yoni.  Wait and allow your yoni to open when it is ready.  (Or, if you can isolate the muscles at the opening of your yoni, using them to "pull" the egg inside you.)
With the egg inside, practice pulling the egg close to your womb and then slowly pushing it back to the earth.  Try it lying down, and then try this exercise seated.
Connect with your egg for about an hour, or for as long as it feels good to you, without overdoing it.
What I most love about having the egg inside me is the sensuousness of the experience.  It's smooth and feels luxurious to hold inside, and it makes isolating and working my pelvic floor muscles* actually kind of fun to do.
When you're out of the tub, be sure to massage a moisturizing oil on your skin.  I recommend organic extra virgin coconut oil, and my current favorite is CBD-infused.  It arouses me while also calming my nervous system, and it helps me reach a state of easy, blissed-out tranquility.
Whether you choose to go "all the way" on your date is up to you.  If you want to orgasm, then orgasm!  But please, as with any sexual encounter, don't let orgasm be your goal.  Focus on your sensations and the pleasure of your touch.  Feel it deep in your body.  Savor the feel of your own hands, and allow the thoughts and emotions you have to pass through your mind like clouds in the sky.
Allow yourself to be very grounded in your body, fully present with yourself.  Keep your phone silenced and put away for the duration of your date; this is a chance for you to be fully with yourself, not others.  You are worth connecting with.  You deserve pleasure.  And you deserve love.
Enjoy your date!
*As a side note about pelvic floor health, while many people recommend kegels for keeping pelvic floor muscles in tiptop shape, keep in mind that if you're not doing them right, they can do more harm than good.  A yoni egg is, I think, a good way to help train yourself to do equal amounts of squeezing and releasing.  Typical kegel instructions only talk about squeezing; but if you do this, you can create unbalance in your yoni.
If you have questions about pelvic care and prefer to work with a professional, please reach out to me.  One of my specialties is Holistic Pelvic Care, and I'd be happy to guide you.