Here comes a rant.  It's 2018 and I can't believe that I am still having to defend the existence of the female G spot! I was reading a great article in the New York Times about teens and online porn. In it, they describe a Porn Literacy pilot program created by a group of sexuality educators from Boston University's School of Public Health.  I almost fell off my chair when I read this quote from a sex educator explaining female sexual anatomy to the students.
""This is the clitoris. "This is where women get most pleasure. Most women do not have a G spot. If you want to know how to give a woman pleasure, it's the clitoris."
While I truly appreciate any attempt in a sex education class to talk about female pleasure, the fact that this myth continues to circulate among those who for sure should know better is mind boggling.
Let me try to clarify this for you once and for all.  Every woman on this planet has a G Spot, also know as the urethral sponge.  It is always located inside the vagina on the frontal wall underneath the pubic bone.  The G spot is spongy tissue with some ridges in it. You can locate it on yourself by placing a finger inside of the vagina and curling it up towards the pubic bone.
Here's a good illustration with some fun facts.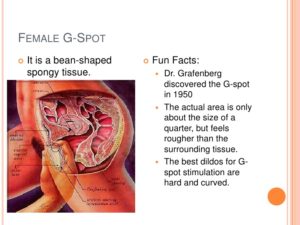 The G spot consists of erectile tissue and thousands of nerve endings. Like all erectile tissue (penis, nipples, clitoris), when the G spot is stimulated and arousal begins, it expands and can grow up to an inch or more.
While every woman has a G spot and has the potential to experience G spot orgasms, many women do not have this experience. There are a variety of reasons for this but here are the most common ones:
The G spot is not being touched or stimulated correctly. Very few women know what their G spot feels like which makes it impossible to guide a partner towards the type of touch you desire.
Most male partners completely miss the G spot which for most women is hidden under the pubic bone, not that close to the vaginal entrance. You have to look for it to find it!
The G spot has not been activated. Nerve endings on the G spot often need to be activated before a woman begins to experience pleasurable sensations. Starting slow and light is the best way to begin activating the G spot. The G spot may need 10-15 minutes of light constant touch to begin to awaken.
Trapped emotions are being held in the G spot. The G spot holds a lot of emotions, pain, and past trauma in women. This often shows up as a feeling of numbness or discomfort during G spot stimulation. If this happens, feel into the emotion and allow it to be expressed. Many women rage with anger during this process. Pleasure is typically on the other side of a woman's pain and emotions.
For most women, G spot orgasms, like other vaginal orgasms, tend to be much more potent than clitoral orgasms. Many women describe it as a riding a wave rather than a short, but intense, burst of energy.  Unlike clitoral orgasms which tend to peter out after a few times, there is no refractory period for G Spot orgasms. They can literally continue for hours and the intensity usually builds, rather than diminishes.
G spot orgasms may not be your thing and that's totally fine. We all get to decide what our body likes. But do not be fooled. You have a beautiful G spot just waiting to be explored.