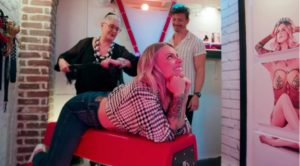 Have you been watching my new favorite Netflix Series, How to Build a Sex Room, hosted by the fabulous English born designer Melanie Rose?
I thought I had died and gone to heaven when I first found about this show since it incorporates two of my favorite past times, sex and interior decorating.
In a nutshell, Melanie Rose, who is an extraordinarily talented high end designer, works with a variety of Denver based couples to transform a space in their home into a sex room to satisfy their needs and desires as a couple.
The couples cover the whole spectrum;  vanilla to spicy, straight to gay, monogamous to polyamorous.
But Melanie Rose is not just any designer.  For starters, she's in her sixties and wears her sexiness and kinkiness well, upending the myth that sex dies after menopause.
She is also very well educated and versed in human sexuality so the show is also quite educational.
She does a wonderful job in helping to normalize all types of sexual styles, habits and kinks.  Nothing is off the table including creating a space for wet and messy play.
I have to admit that I learned a lot watching this show and my partner and I had a blast talking about some of the toys, decor, and setups.
That's another great thing about this show, it gets couples talking about sex, romance, intimacy, fantasies and desires.
After watching the show, we're definitely working to create an even more sexy space for ourselves incorporating some of her ideas.
And you should be doing this as well!
Here are five reasons why you should create your own sex room and how to do it on a budget that won't require a second mortgage on your house!
A sex room will help to get you in the mood.
Let's be honest here.  Having sex in a room and on a bed that normally houses your dogs and or kids can be a desire killer.  Many women need a sexy or romantic atmosphere to feel sexy themselves.
This is why there's so much good sex on vacation.You walk into a clean, uncluttered room with a nice big, comfy bed as the focal point, and nothing else to distract you.
A sex room makes a strong statement that sex is a priority in the relationship.
You're not going to invest time and money into building a sex room unless you really plan to use it. The planning process involves lots of conversations about fantasies and desires, which is sexy in itself.
A sex room makes having sex easier.
There have been times that I've not wanted to have sex simply because I was feeling lazy and didn't want to go and set up the whole room with toys, decor, my liberator (waterproof blanket), cushions, bondage equipment etc.
In a sex room, everything is already set up for you.  The hard points (bondage hooks) are in the wall, the toys are all organized and easily reachable, the lighting is perfect, the furniture is all waterproofed and the ropes are set out. The room decor screams passion, intimacy and sex.
A sex room can be easily and inexpensively created
No doubt that when you watch this show you're going to see dollar signs flash before your eyes.  Some of these rooms with custom baths, showers and furniture, let alone construction, cost easily six figures and higher.
But there are many DIY options available to create a sex room. Check out these items from the show that are available through Amazon.
You can easily paint your room in a sexy color,  add self-adhesive wall paper, some erotic art, a Tantra chair, some bondage equipment if that's your thing, ostrich feathers in a vase, a canopy and twinkle lights over a bed (like I did in my sexy chalet) for my intimacy retreats.
A sex room can be flipped back into a normal room quickly
Not everyone has the luxury of additional space for a sex room or a hidden space in the cellar or behind a Murphy wall which is a brilliant idea from the show.
But you can easily flip your bedroom (or some other room) back and forth between a sex room and a bedroom.
Under mattress bondage ties work great. Pull them out when you need them and stuff them back under the mattress the rest of the time.
Keep all your sex toys in a basket or box under the bed or in a night stand so they are easily accessible.
Add dimmers to the lights in your room or  get a red or purple scarf and throw it over table lamps. I've even used a shirt in a pinch.
A vase of ostrich feathers (which are great for sensual play) can work in any room.
If the room or dresser is cluttered, throw a Sarang over the whole dresser to hide the mess and create more ambiance.
Keep an empty hamper in the room so you can quickly collect all the kids toys, clothes on the floor etc and unclutter the room.
Set up a blue tooth speaker and have an already created sexy playlist so all you have to do is hit one button.
So what are you waiting for?  Create a sex room and send me your pictures which I'll post on my blog and website.