Still looking for that perfect gift to put under the tree? Look no further than your own hands and give someone you care for the gift of touch!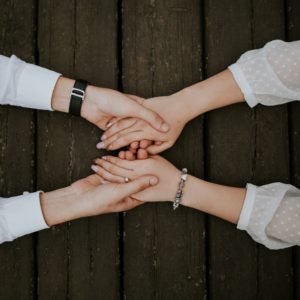 From the time we are very young touch is an integral part of our lives. It is the very first sense we connect with in utero. Fathers hold newborns skin to skin, so their baby can feel the connection and heartbeat. We grow up learning this profound language and our interactions with touch will impact the way we interact and view the world for the rest of our lives.

Touch strengthens connections, heals, helps us communicate, influences actions and soothes. It is a human experience that goes across cultures. One of our true universal languages!

What is Touch?
Skin is the largest organ you have. Not only does it protect us from foreign objects, but the nerve endings on the skin also allow us to connect with our surroundings in a tactile way and feel sensation, like when we get goosebumps. At its core, touch is a transfer of energy, a gift of giving and receiving all at the same time. That is what makes touch such an important element to any relationship.

Ways in which touch can strengthen your relationship and bond with your partner.
Nurturing Touch- we touched on this at the beginning of this blog. This type of touch communicates a level or compassion and empathy. It gives the receiver a sense of calm and the giver the connection of energy. Many of us did not receive nurturing touch growing up and touching your partner in this way can really start to heal that deep attachment wound and create more intimacy and emotional security in the relationship.

Communication Without Words- this is one of the senses that does not need an auditory signal. It can be done in complete silence. It is an expression of the heart, emotion and even readiness for something more. It can put us in a space to drop the masks we wear and reveal who we are, at that moment.

Reducing Stress- The hormonal response we get when we are cuddling, getting a massage or just touching someone we love can be the quickest and easiest way to melt away stress. When the powerful hormone oxytocin is released (the love hormone), and it helps reduce the levels of cortisol (the anxiety hormone) in the body!

Brings People Closer Together & Creates Intimacy- A great way to create tension during foreplay is to explore your partner's body. Find out where your partner likes to be touched and where they don't!

Recommendations On Exploring Touch:
Set aside time to spend with your partner exploring what touch means to them and what it can do for them. You can use this time to explore their erogenous zones and see which elicit a giggle, a moan or even relaxation into the touch.

Another way to explore touch is to try various types of touch.  Go from a light/feather touch to a firm/message like touch. Then try percussive touch (tapping, spanking), pinching, blowing, and stillness. Each type of touch has their place and can help increase the anticipation of more to come.  You can also try using objects such as feathers, your breath, a handheld massager, massage oil and even heat and cold to see how it can affect the outcome.

Exploring touch is a great way to build intimacy with your partner without having to use any words. There's no better gift that you can give your partner than a night of receiving touch. It won't cost you a dime and you will also thoroughly enjoy giving this gift!