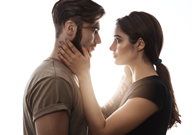 I have a confession to make.  For over a decade, I have had a blind spot about men's sexual desire.  I have believed, and taught, that men's sexual desire is vastly different than women's.
Here are some of the statements that I have made which I must now take back.
Men are always ready for sex.  Touch a man's penis and he's ready to go.
Women need emotional connection before sex.  Men go to sex for emotional connection.
Men and Women express sexual desire in different ways.
My come to Jesus moment happened after devouring Sarah Hunter Murray's new book, Not Always in the Mood: The New Science of Men, Sex and Relationships.
This researcher has upended much of the conventional wisdom about men's sexuality by effectively challenging prior research and examining an overlooked area since 90% of research on sexual desire is about women.  Here are some of the main findings:
Men are groomed to be more interested in sex than women.
Much of this grooming is related to the way men are socialized from early on. Little boys need to touch their penis in order to pee and this act alone makes touching one's genitals more acceptable for boys than it is for girls, whose only reason for touching themselves is to experience sexual pleasure.
Men are socialized to believe that their sex drives are supposed to be high, that they are always supposed to initiate, sexual gratification is their desired income, and sex without connection is normal.
There are no significant gender differences in sexual behavior and sexual desire
According to Murray,  the vast majority of sexual behavior research which shows gender differences (e.g. men with higher desire, men using more porn,  men masturbating more frequently) is flawed since it is "self reported" and demonstrates the socialization bias. When participants were told their answers were being monitored by a lie detector attached to them, the gender differences completely disappeared.
Both women and men equally experience low desire in long term relationships
In long term relationships, an equal number of women and men had low desire, busting the myth that low desire is primarily found in the female partner.  However, Murray's research also concluded that many men "missed" the signs that their partner was interested in sex. Women's signals may be more subtle and they might be holding themselves back from openly showing their sexual desire.
Physical looks are not what drives men's sexual desire
Contrary to popular belief and pop culture, women's physical appearance is not the end all and be all when it comes to men's desire. What's more important to men is a woman's sense of comfort and confidence in herself regardless of her looks. Men are also driven by romance, intimate and emotional conversations and connections.
Women's pleasure is really men's pleasure–it is not about their own sexual gratification.
Most men derive pleasure and satisfaction from their partner's pleasure and that is a driving force in sexual relationships.  This is an area that truly  surprised me even though almost every man I've ever worked with has told me that all they want to do is please their partner.  I've always assumed that is the male ego talking and while that might be a part of it, it is clearly not the whole truth.
This knowledge can also help ease women's concerns about "taking too long" which is a common refrain from my female clients. Women need to learn to enjoy and accept all the pleasure that their partner offers.
On the other side, it is clear that men can tell when their partner is not enjoying sex and that kills the pleasure for them. Men would rather masturbate then have dispassionate sex with their partner.
Men are looking for emotional connections, intimacy and romance
There's been a false belief in the intimacy world that women need emotional connection before sex and men use sex for emotional intimacy. That dichotomy creates a no win situation for couples. Murray's research demonstrates that men also need emotional connection before sex.  Men described activities such as a romantic night out, holding hands with their partner on a walk, or having a great conversation as building connection and sexual desire.
Lots more interesting findings so if this intrigues you go read the book. But the bottom line is that we all need to re-examine our beliefs about men, intimacy and relationships.