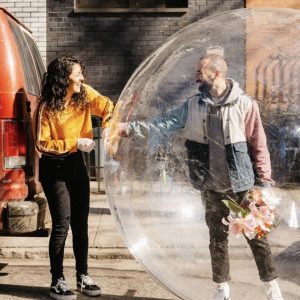 If you're single and dating, Covid-19 is completely changing the dating process. My single female clients tell me that they love how dating, like everything else, has been slowed down.
No more pressure to meet in person (now it's over Zoom) and lots of time to get to know someone you're interested in. Apparently the use of dating apps are way up as many singles have lots more time on their hands.
So here are some do's and don'ts for Covid-19 dating:
Do continue to be selective with who you want to connect with. There's no need to rush into a video chat which can get overwhelming and exhausting. Just because everyone's available, doesn't mean that you need to meet every person who you swipe right on.
Continue to vet potential dates by verifying their identity, their dating status, employment etc through Social Media. It's important that you know who you're connecting with. Social proof, having similar FB friends, looking at IG and FB profiles gives you a much better sense of who this person is.
If you decide to video chat, set up a time and date rather than just "let's hop on Zoom". This will provide valuable information around reliability, level of interest and whether or not you will be ghosted.
Do some serious screening and assessment during the first call. Notice if you are attracted to the person physically, spiritually, intellectually. Physical attraction can definitely grow over time however if you're really not attracted to them (or they look 10 years older than their pictures), it's a non-starter and you should not waste more of your time.
Ask potential dates to show you around their house.  You can tell a lot about a person when you see them in their own environment. If they don't care for their own belongings, that's a huge red flag.  How will they care for you and for the relationship? Also you will learn some interesting things about them–what they value, their interests, and family situation.
Set up a time limit for the first Video chat..15-30 minutes.  You can always exceed it if things are going well.  But you also want an out if you know this is not a match.
If it goes well and there are subsequent Video dates, use the time to create more connection and intimacy. Practice vulnerability skills. Talk about what it feels like to be in connection with each other. Take a few minutes to look into each other's eyes and see if you can attune to each other's breath and body.
Since you can't touch, notice if you can generate some sexual energy, which can easily come through a screen. This can be as simple as telling your date what you visualize it would be like to touch or kiss them.  Interactions like this can get very hot pretty quickly so be sure that you are clear about your own boundaries.
Even if the video dates are going well, keep expectations low until you finally have a chance to meet.  You can't really tell through a video screen what your physical interactions are going to look and feel like. That will need to wait until social distancing orders have been lifted.  In the meantime, lots of opportunity to practice your dating skills!