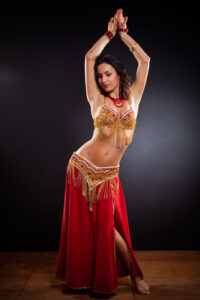 After a night out dancing with a girlfriend, I found myself feeling so juicy and sexy, primed for more fun!
Of course, this isn't surprising. Dance has always been known to amp up sexual desire. (Hence the dance-repressing urges of the sex-shaming-religious-minded folks!)
[Fun fact: Dirty Dancing was filmed not far from where I live now!]
Moving our bodies in sensual ways primes them for more sensual movement. Where we put our attention, energy flows.
So when we dance, we direct our attention to our hips, swaying sensuously, and our shoulders and arms follow the movement until our bodies are just waves of music in motion.
If you want to help keep people from having sex, then I guess I agree with the fundamentalists in one aspect (only one!):  Dancing is sexy! Tooo sexy!
But since I'm NOT a fundamentalist, I embrace the sexiness of dance, and I think we all need more juicy, sexy movement in our lives.
So if you want more sensuality and rich, beautiful sexuality in your life, I urge you to find a style of dance that lights you up and do it!
It doesn't matter if you're dancing in public or in the privacy of your bedroom with the shades drawn. What matters is that you do it.
Some options to consider:
BodyGroove : For a limited time, I think they still offer $5/month pricing, and there are lots of dance options to choose from.
For couples country dance, Show Her Off is an option, though some of the lessons contained very gender-normative banter that kind of turned me off. (The lessons – minus the banter – are quite useful, especially for beginners.)
For solo femmes, a friend highly recommends Sensual Goddess Workout, which she says is like learning to dance like a stripper. ("Sex work is HARD WORK!", she reported, laughing.)  She says it's a fun workout that doesn't feel like working out, and it leaves her feeling sexy and wanting to dance more!
For already-skilled dancers, something like West Coast Swing would be fabulous.  (This is so impossibly sexy, I just can't get it out of my head.)
See if your area hosts salsa or bachata lessons or dances. (Mine does!)
Belly dancing, anyone?
And if none of these seem like good options for you, then just put on some music and dance!

 

Move your body with joy, and you won't be doing anything wrong except maybe offending some fundamentalists, in which case, do it more.
The world needs more sexiness, not less!