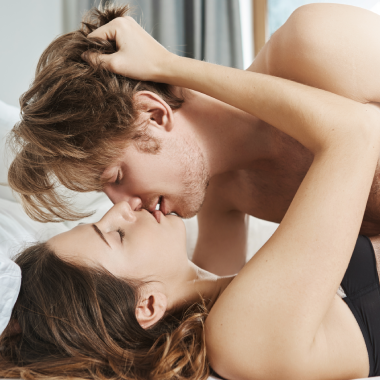 Condom Conundrums
For those of us just getting out of a long term relationship does this sound like a familiar scene?  You are in the heat of passionate lovemaking and one of you goes to grab a condom.   The minute you begin to put it on, or even right at the beginning of penetration, the man loses his erection? This is the Condom Conundrums! Practicing safe sex is often a lot easier said than done when we are transitioning from a fluid bonded relationship.
Condom conundrums can interrupt the flow of lovemaking and cause lots of anxiety for both partners that in itself increases the likelihood of the man losing his erection.    The lack of sensation for a man in this situation is physiologically based.  The neuronal pathways have been conditioned over a long period of time to only be receptive to skin to skin contact and the feeling of having a barrier between the penis and the vagina literally dulls the senses causing the erection to go away.  In order to reverse this, the penis needs to be reconditioned to feel pleasure with a condom on.   While reconditioning is going to take some time and patience, there are some ways to help speed up the process.
Practice Masturbating with a Condom On
This is by far the most effective way to avoid the condom conundrums and recondition the penis.  Masturbation practice has many advantages.  It is a pressure free environment and there is no anxiety about not being able to please your partner.  Men also know exactly how to get and keep themselves aroused.  It is important to use a condom as soon as you have a sustainable erection and to keep it on while continuing to masturbate for as long as possible without ejaculating.  I suggest that you start with 5 minutes and add another 5 minutes every day for two weeks.  We are not only reconditioning the penis to touch but are also working on reconditioning the ejaculatory response.
Masturbate with a Flesh Light
A Flesh Light is a sex toy designed to simulate the feel of penetrating a vagina.  It comes in the form of a flashlight.  While I personally have some issues with the marketing of this toy and the fleshlight porn girls whose vaginas are being modeled for use, it is a very effective tool to resensitize the penis to having sex with a condom on.  It can be purchased at sex shops such as Good Vibrations as well as on-line at www.fleshlight.com.
Try Using a Female Condom
Female condoms, which are primarily being used for male anal sex, have never really caught on with women in this country.  While using a female condom will be the subject of a subsequent column, they can be very useful and effective in this situation.   A big advantage is that they can be inserted at any point in lovemaking taking a huge amount of pressure off of the man.  Some woman do experience a small degree of decreased sensation in the vaginal walls but this typically dissipates rather quickly and generally doesn't impact the intense feeling of penetration.  Men tend to like the feel of the female condom as it seems rather natural to them.
The most important tip is to be gentle with yourself and for your partner to be extremely patient and understanding.  Remember that there  are so many ways to please your partner that does not involve intercourse.  Take this time to enjoy and explore each others bodies and before you know it you'll be up and running..
Would love to hear about any other techniques that have worked for you!