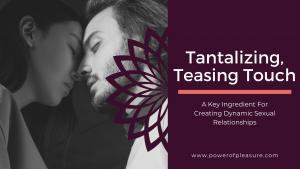 Feeling sexual desire for your partner and making this person desire you is something that gets difficult over time. Why is that?
Well, at the beginning of the relationship you were probably dying to be next to each other so the desire was naturally there. Well not exactly naturally. It was helped along by mother nature and the rush of endorphins that occur during the New Relationship Energy (NRE) phase.
But as time went by you those endorphins fade. Also you and your partner were always together and it becomes difficult to desire something you always have.
That is why as a couple you need to take time and find ways to create a dynamic sexual relationship that awakens that desire.
Why do many couples fail when trying to reclaim their desire?
Sometimes we go way too fast! This leaves no place for desire.
You know you are ready, your partner is ready so maybe you are thinking, why wait? Let's do this now.
And this can lead to sex being a routine without something exciting, which eventually can cause a lack of intimacy and disconnection.
This is why many couples fail when trying to bring their desire back because they leave no room for the actual desire to happen.
Let's consider this example. Imagine that I tell you that you can eat chocolate in a week but before that, you CAN'T even touch or smell the chocolate.
Every day you will be thinking about the chocolate, imagining the taste, and how you will feel once you get to eat it. But if I give you chocolate every day you will get used to it and you will no longer desire that chocolate as much.
Well, the same thing happens with sex. Now, I'm not saying "only have sex once a week".  But you do have  to  create  room for imagination and desire and try not to move so fast.
How do you create erotic energy through touch?
Creating erotic energy is extremely necessary if you want to create a dynamic sexual relationship with your partner.
To create this energy you need to create an environment where there is longing. One of the best ways to do this is through tantalizing, teasing, touch.  This means using teasing touch to create incredible desire within your partner.  You need to slow way down, tease your partner by not giving them what they want, and make your touch very sensual with a tinge of surprise in it. Y
You need to get out of your routine that all couples have and do something different.  Maybe blindfold your partner so they don't know what to expect next. For many, this creates an air of newness, excitement, and that tingling feeling in your body that something different is going to occur and you don't know what it is, where or how you're going to be touched, and what's going to come next.
The erotic energy you create will depend on you and your partner, but the important thing is to create a safe but erotic environment that you can both enjoy.
Which are the main ingredients for creating erotic energy?
Imagination, trust, and good communication can create that tantalizing, teasing touch of wanting your partner to be touched by you.
If you mix all the ingredients you will create sexual tension which builds great erotic energy.
Your life circumstances will make this easier or harder but this is why imagination is key. And remember that this is teamwork. You can't do this alone! You need your partner's support all the time.
Surprises also help create erotic energy. Surprise your partner with some lingerie, set up the bedroom with sexy sheets and candles, or sext them during the day with clues about the evening activities.
What happens once I make my sex more dynamic?
I can't give you a magic formula to create erotic energy because it is so personal, but you will need to be creative and try new things that will create desire for both of you. This is not only a one-time thing. By creating that desire you are building a long term dynamic sexual relationship that will provide a lifetime of connection, passion and intimacy.
Summary
I really hope this was helpful for you because keeping the desire alive is not impossible and it can save your sex life!
During this pandemic that we are going through you will have plenty of time to try new things and create that erotic environment I have been telling you about.
And by the way, if you are interested in growing and deepening your relationship during these hard times I have an ongoing workshop "Passion in the Pandemic". The idea is to help you and your partner to reconnect and enjoy your time together even more.
You can see all the details by clicking here: Passion in the Pandemic.
Would love to see you there!