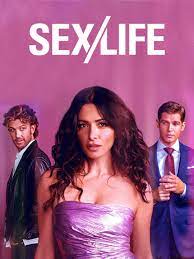 Have you watched Sex/Life, the hot new series on Netflx?  Not only is it super steamy, but it's a great story line about the challenges some women face in choosing their life's path and their mate. Caveat (the reviewers have bashed it but I still found that it raises some interesting questions about monogamy, desires, and relationships). By the way, despite bad reviews it trended number one on Netflix all summer long. 
Here's the plot overview:  A woman's daring sexual past collides with her married-with-kids present when the bad-boy ex she can't stop fantasizing about crashes back into her life. Sarah Shahi (Billie), Mike Vogel (Cooper) and Adam Demos (Bad Boy Brad) form a tantalizing love triangle in this steamy drama.
Let's look at some of the issues that it raises through the lens of sex and intimacy.
Bad boy vs Safe Choice.  Many women (especially those that have trauma in their past) are romantically drawn to the "bad boy" personna. Someone who is exciting, not risk averse, and sexually adventuresome. Bad boys are also typically narcissists, with deep avoidant attachment wounds, which makes them unreliable and commitment phobic.  
The "chase", the jealousy, the not knowing if they are going to show up or not, also creates excitement and constant dopamine releases, keeping desire for sex and connection flowing.
Eventually, as Billie finds out, the narcissism and emotionally unavailability of bad boy Brad, drives her into the arms of the safe and boring wall street banker, Cooper, where she becomes a Stay At Home Mom giving up her dreams of completing her Ph.D in psychology. 
Not surprisingly, Bille and Cooper's sex life is in the toilet, which results in her fantasizing (and then writing in her diary) about her steamy sex life with Brad, which Cooper discovers.  He attempts to recreate one of Billie's adventures, which ends badly with him being repulsed by his actions and unable to perform.
In this moment, Cooper faces the Madonna/Whore complex and experiences cognitive dissonance when the mother of his children shows her true sexual nature and desires.  
Monogamy vs Open Relationship:  The question that Billie and many of us struggle with is "can she have it all from one person"?  Without giving too much away, suffice it to say that Brad comes back into her life, with regrets for being such a cad. 
At the same time, Cooper and Billie attend a swinger's party. In a weird plot twist, Billie becomes "shy" at the party and also jealous when Cooper engages with another woman.
 I do have huge issues with how this sex party was depicted during which seemingly everyone in attendance was "watching" as Cooper tries to seduce Billie in public. 
I can assure you that this does not happen to newbies at sex parties. People are very respectful, everyone is into their own thing, and generally there are many consent and boundary conversations.
Leaving the weak story writing behind here, it's important for couples to know that they do have many options to expand their sex life, including opening up the relationship in whatever form seems appropriate. 
I'm neither an advocate for or against non-monogamy (I've tried it both ways), but I am an advocate for creating the relationship paradigm that works for you and for recognizing that it's not realistic to expect one person to meet all of your needs. 
It's rare for a TV drama to address attachment wounds so I give the writers a lot of credit for this part of the story line.  I also feel like the reviewers just didn't understand some of the psychological nuances of the story.
People like Brad, who show avoidant tendencies, and run away from commitment and conflict, generally have deep childhood attachment wounds. While we see this play out in the series, what we later discover is that eventually he does his own work to try to heal those wounds. 
This makes him an interesting and complicated character who is much harder to vilify at the end of the day.  It also sets us up for Season Two if Netflix decides to renew it. 
I've recommended this show to several of my female clients who are feeling sexually challenged. One client said that watching this gave her permission to feel desire and it was empowering to see Billie fantasize about sex. 
I'm pleased to see so many more shows where sex as the subject is portrayed with a level of authenticity and is shown to be a complex array of emotions for both genders.  More of this type of programming please!