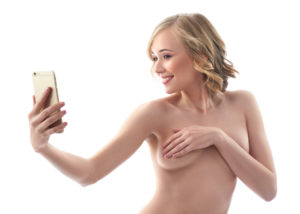 Recently I was reading a dating guide for women (written by a man), and I came across some curious advice about nude photos:  The author insisted that women should, as a rule, never take or send such photos, and shouldn't waste their time with men who engage in such behavior, either.
Which, frankly, made me laugh.  What nonsense is this?!?  I checked the copyright date, which wasn't 1950, so I sat, thoroughly puzzled, mystified by this bizarre rule.
Certainly, there are reasons not to take or send nude photos (see, e.g., Anthony Weiner), but there are just as many reasons to take and share them with your lover.  Let's cover a few of these.  First, why not to take or share photos – Don't do it if you're underage, or if your lover is underage, or if you're sending them to someone you supervise in any capacity.  There are actual laws governing such conduct, and while thrill and excitement in your love life is great, criminal or tortious behavior isn't the kind of sexy drama you want to invite into your bedroom.
Another good reason not to take or share nude photos is if someone told you you're sexy and you ought to do it, or if you want to do it to turn on or impress someone.  Doing it to please other people is, I would argue, not wise.
Rather, I think a better reason to take the photos is for You.  Do it for fun, do it for the sake of art and creation and joy and love of the skin-suit you're living in.  And you might object:  But Xanet!  I don't actually love this skin suit I live in!  Which, I think, is all the better reason to capture it and see it in a different way.
Most of us have things we don't like about our bodies.  Even me – though I have a beautiful body, there are things about it I don't always love.  I was discussing this recently with a friend who shared with me the shift in her life with how she viewed herself when she started taking nude photos of herself.  She was inspired to do so by a lover who'd been a model and was an amateur (& exceptional) photographer.  In her words:
My lover shared photos of himself that showed a lot of skin, but with creative angles and perspectives and mysterious shadows and Woah!  These photos came through to my inbox not as flesh on display, but a whole mood, this sensual, sensuous creative being that filled with me desire I'd never felt before.  And so, with his gentle nudging, I went from one who scoffed at "dick pics" to one who lusted merrily after the really artful, beautiful ones.  My lover introduced me to Robert Mapplethorpe, whose nudes gave me even more inspiration and helped me see that Wow, Yes! Bodies are incredible!

I started with an external webcam hooked to my laptop, so I could take a photo using a timer triggered by a click of the mouse, within my reach, whilst seeing on the screen what I was capturing.  I shot mostly in B&W, enjoying the play of light and shadows.  I took advantage of the natural light from a nearby window, arranged assorted lamps as needed, and used my bed as a stage and a blank wall as the backdrop.

I did this for me.  It was special time, carved out of a busy schedule, when I took a luxurious bath, got out and put on a touch of makeup – maybe liner for my eyes, a tiny bit of lipstick.  And then, an hour or two of creation, an artist's date with myself, as I marveled at the shadows my body made, the other creatures taking shape on the wall behind me, out of my sight, but within the view of the camera.  Those old photos are grainy, low-resolution, but beautiful.  I shared some with my lover, and he loved them, and every now and then they pop up in my photo memories and I re-live, for a moment, my life in that time, shift back to not knowing so much of what I know now, notice the ways my body has changed and the ways it has stayed the same and even improved.
I asked her if she ever regretted the photos.
 No.  I mean, did I ever worry that maybe they'd end up on my boss's desk?  Yes.  But the photos were gorgeous, and I wasn't ashamed of them.  I figured that even if they did end up on my boss's desk, the most likely outcome would be that I'd get a raise.
So is there a rule that you should never take or send nude photos?  Certainly no.
What's stopping you?
Please feel free to comment and share your experiences, and if you want to talk to me one-on-one to see if I can help, please reach out and connect with me.