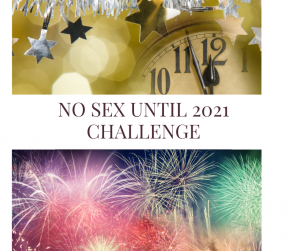 This morning I issued a challenge to my partner, "No Sex until Jan 1 at midnight".  He looked at me as if I was kidding, but I was deadly serious.
I came up with this idea after a week of fun, but predictable sex that was making me long for something different.
Nine months into our relationship, we kind of have our routine established.
Even though there's lots of foreplay, it's still become pretty predictable. And I know that routine sex is what kills passion and sex lives.
If you resonate with this, then I urge you to join my No Sex Until 2021 Challenge.
You might be wondering at this point if the Pandemic and shutdown has finally made me lost my s***t.
Quite to the contrary!  I'm excited about this opportunity to explore new ways of connection with my partner.
You see, "Not having sex" does not mean not having pleasure, touch, erotic connection or orgasms.
To "not have sex", all you need to do is take your genitals off the table.  That means no touching, kissing, licking, or biting  penises, vulvas, anuses, and nipples.
Yes nipples are connected to your genitals in some way.  Many women and men get quickly aroused with erections or sensations in their clitoris when the nipples are touched.
When the genitals are off the table, it forces you to get a lot more creative. To explore touching different parts of your partner's body in different ways.
Slow touch, harder touch, finding new erogenous zones. Did you know that your entire body can be orgasmic?  Fingers, toes, ears, belly buttons, necks when touched in the right way can cause immense pleasure and energetic orgasms.
Taking genitals off the table does not foreclose other types of erotic activities. If anything, it makes them even more interesting.
What would it be like for you to be restrained with ties, or ropes, and teased but not involve your genitals?
What about telling each other some erotic fantasies without even touching?
How about lathering each other's bodies up with coconut oil and slithering and sliding all over each other?
A night of a high school make out where no clothes come off can also be very arousing.
One thing that you'll notice if you take my challenge is that there's no longer any goals around sex. It's not about performing for your partner or for yourself.
It forces you to really be in the moment and experience sensation in your body.
Another thing you'll notice is that you might walk around in a constant state of low level arousal. Even though your genitals are off the table, it doesn't mean they're not responding.
BTW, my partner and I agreed that no sex also means no solo sex!  For him, that might even be a bigger challenge but having solo sex really defeats the purpose of refraining from genital touch.
This does not mean that you can't have amazing sex with yourself!  Not only can you, but I guarantee that your solo sex sessions will also last longer, involve different types of touch, and bring you a tremendous amount of pleasure.
Finally, can you begin to envision what it's going to look and feel like when you ring in 2021 just past midnight?  There may not be fireworks in Times Square this year, but I guarantee you that the fireworks will go on for hours in your bedroom!
So what are you waiting for?  Join the Challenge and Start the Countdown!
P.S.  If you're a vulva owner, join me in my FB group, Girlfriend Sex Talk, to share your experience!