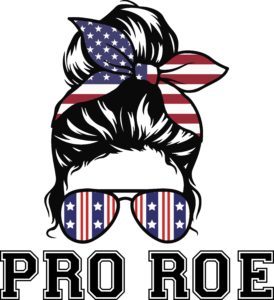 I stand with V (formerly Eve Ensler) and reject the Supreme Court decision overturning Roe.
Why? For starters, the Supreme Court is presently corrupt and illegitimate. Five of the nine current judges were appointed by presidents who lost the popular vote. Two of the current justices have been credibly accused of sexual assault.  Three of them were appointed by a man who is a self-confessed molester of women. I refuse to accept the decisions of a corrupt and illegitimate court.  
Secondly, I refuse to accept the decision because abortion is health care, plain and simple. My religion, Judaism, holds that life begins when a person takes their first breath. Even if others believe that life begins before birth, the U.S. constitution prohibits involuntary servitude.  As I've written about before, we cannot justly – or constitutionally – force a person to labor for the benefit of another person.
Since the decision overturning Roe, friends have been reaching out to me, sharing their abortion stories and relaying the powerlessness this decision has caused. I too have grieved this loss. Where I live in NC, abortion is currently legal, but my heart breaks for all the women living in places where they cannot access this life-saving, life-improving care. 
I have grieved, but I will not sit in grief and remain powerless. I vow to put my sadness and anger into action. Last week, I donated to and am inquiring about establishing a local chapter of National Network of Abortion Funds.  And in the coming months, I vow to do everything I can to help elect politicians who will fix this corrupt court and enshrine  reproductive freedom as a constitutional right. Merely voting blue isn't helping us. Even Biden proposed appointing an anti-choice judge!
Here are six steps you can take to help:
Call it what it is. Forced birth advocates are not "pro life" and have never been. Call them out for it! Let the phrases "forced birth"  and "anti-choice" be used whenever others might say "pro life." 

Share your stories. Talk to your right-wing relatives and tell them about the abortion you had that saved your life, that made the life you have now possible. Many forced birth advocates just have no idea that most of the people they know have had abortions because so few people talk about it. Start talking. Abortion is health care. Abortion saves and improves lives. Does it suck to have an abortion? Yes but it sucks in the way a pap smear sucks. It's unpleasant, but worlds easier than being forced to give birth. A friend described her elective abortion to me as "yucky but also incredibly freeing. It gave me my own life back."

Work to ensure abortion remains accessible and safe. 

 

Donate to National Network of Abortion Funds. If you live in an area that doesn't have a chapter, volunteer and start one. 

Vote like your life depends on it, because so many lives do. Don't just "vote blue"; this isn't working. Research candidates and find out which races in your area really matter. Reach out to the candidates and ask them pointedly what specific steps they will take to protect or restore abortion access. Figure out which seats in your area can be flipped and do everything you can to make them flip.  And then don't just sit back on Election Day. Be a poll worker, or see if your county needs election judges. The erosion of our right to reproductive freedoms runs parallel to all our fundamental rights, including the right to our votes being fairly counted.

Have hope. The current court has gone rogue but it is fixable. This is not a first in our country. During FDR's first term, the supreme court repeatedly rejected New Deal policies, choosing to protect businesses instead. Following a landslide win for reelection, FDR and the Congress threatened to expand the court, and voilà, the Court changed its tune and started issuing opinions that protected individual rights and helped to pull the country out of the depression. So keep hope. We can and will fix this. 
Lastly, in a spirit of protest against authoritarian rule, embrace pleasure. Sex is NOT just for reproduction. Sex is for many things! Procreation, yes, but that means all creation!  Creation of love, of intimacy, of pleasure, of magic are all procreative acts. So invest time and energy in sexual pleasure, and pro-create!  Not only that, but work your sex magic! Know deep down that you are free in your body to experience pleasure. (And of course, as always, if you struggle with finding pleasure, reach out to me! It's MY pleasure to help you regain pleasure in your sex life!
If I don't see you in a session, then I'll see you on the streets, where you can find me marching for the right to bodily autonomy, to access to PLEASURE!