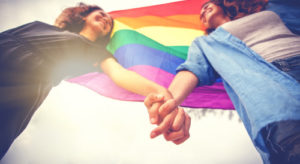 June is national Pride Month, a time when we celebrate Gay, Lesbian, Bisexual, Trans, and Queer folks.  Why June?  Because it's the anniversary of the Stonewall Uprising that took place in June 1969, following the police raid of Stonewall, a New York bar popular with LGBTQ people.
With every single marketer bombarding your email inbox with rainbow-themed options of things to buy from them, it's easy to forget the real meaning of the month.  Think of how far we've come in accepting differences in sexuality!
In 1895, Oscar Wilde was jailed for two years for "gross indecency," i.e., consensual gay sex.  Gay sex was a criminal offense until 1967 in England.
Here in the US, the Supreme Court ruled in 1986 that laws criminalizing sodomy were constitutional!  This remained true until the court reversed the decision in 2003.  At that time, fourteen states (including my state of North Carolina) still had laws making gay sex a crime.
Worldwide, there are still seventy-one jurisdictions in which private, consensual, same-sex sexual activity is a crime.  So it should come as little wonder that for those of us who identify as LGBTQ, the acceptance of our sexuality has been fraught not just with public judgment and shame, but in some cases, the law.
In my book, I write about my own experiences with shame.  As a child, I often played doctor with my friends.  One day, my first grade classmate Josephine and I pretended we were doctors and explored each other's vaginas.  But when Josephine's mother walked into the room, we knew we were in trouble.  My own mother wouldn't even talk to me except to tell me that what we'd done was a "bad thing."  After that, I didn't get to have play dates with Josephine anymore, and at the end of the year, her family moved away.
As such, my own sexual blueprint associated my vagina with painful disappointment, which was firmly rooted in shame.
In my own healing journey and in the work I do with clients, I spend a lot of time addressing and healing the shame that comes from society's judgments about our sexual desires.  When we feel shame, we can never fully relax into pleasure. We can't savor the magical sensation of just being free to be ourselves, to like what we like, and to love whom we love.
The gains that the LGBTQ community has experienced in terms of not just tolerance or acceptance, but actual pride, is incredible.   So please, join me in celebrating diverse sexuality this month (and every month)!  And if you identify as LGBTQ and aren't quite ready to feel proud of it – that is, if you still feel shame – please reach out.  I can help.